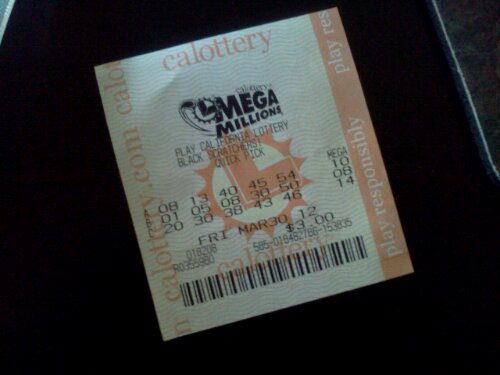 As you can see, I have my lottery ticket for tonight's big honkin' Mega Millions drawing. I went with three QuickPicks because three is the magic number.
In case you didn't already know, tonight's Mega Millions jackpot is $640 million. That's $640,000,000.00 in case you were wondering. And if you go with the cash option, you'd get $462,000,000.oo, otherwise known as $462 million. According to one site I read, you'd wind up with approximately $307 million after taxes.
It's hard to conceptualize a million dollars, much less $307 million.  For me, it's easier to think about how much money it is if I break it down into loads of laundry. I don't mind doing laundry, but I do mind having to share a washer and dryer with ten other people who don't know how to take Kleenex out of their pockets before washing them and then my clothes end up coated in fine Kleenex dust. That is just wrong.
Back to my point: at my building, it costs $1.25 for a load of wash, $1 for 45 minutes in the dryer. If I'm doing the math right, that means I could do 136,444,444 loads of laundry.
I think my brain just exploded.