In late June I received the Surf's Up VoxBox from Influenster, full of complimentary products to test out and review on the blog. I love that word, complimentary, which is a fancy way of saying free. That word always reminds me of one of my favorite stories about Deena's old boyfriend Stan*, who got rip roaring drunk one night, walked into a fast food place, asked for a complimentary soda AND THEY GAVE IT TO HIM. I would not advise doing this yourself, but it just goes to show that if you use big fancy words when you ask for something, you just might get it.
But I digress. (Well, that story did happen at the beach, and this box was full of beachy stuff, so maybe it wasn't too much of a digression.) Back to the Surf's Up Box.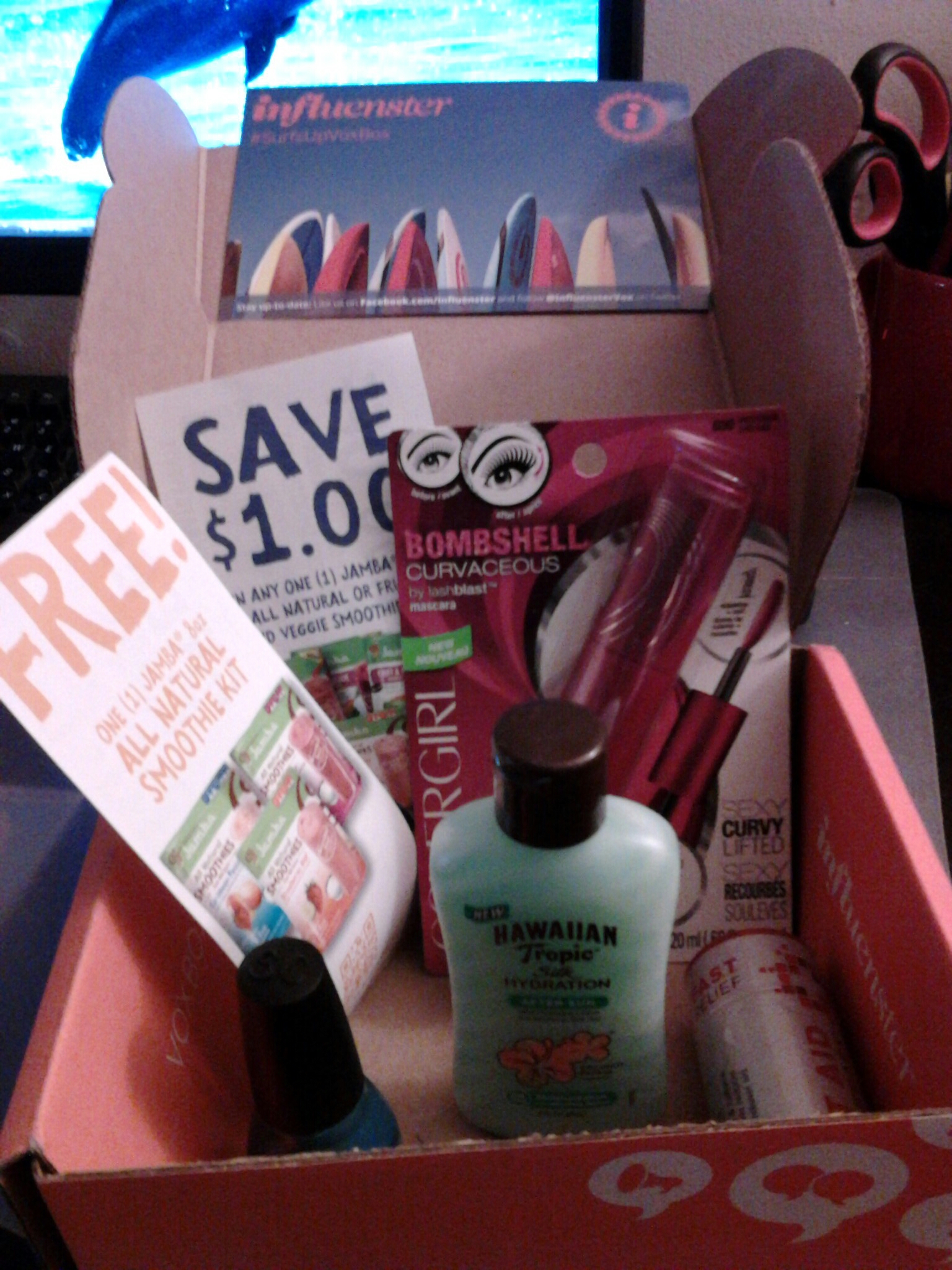 The box came with several fun products to try out: Covergirl Bombshell Curvaceous by Lashblast mascara in Very Black; Hawaiian Tropic After Hydration lotion in coconut papaya scent; Sinful Colors Professional nail polish in Ocean Side, and First Aid Shot Therapy liquid pain relief. It also included two coupons for Jamba Juice smoothie kits – I picked up the Razzmatazz flavor smoothie at my local Safeway (in the freezer section).
The mascara
The first thing I noticed about the CoverGirl mascara is that it comes in a very fat tube and has two brushes & formulas: "1" has a slightly curved brush & gives volume & curl; "2" intensifies and seals the look. While this mascara is NOT waterproof, it does act like that, so you need a oil-based remover to take it off.
I've tried out the Bombshell Curvaceous mascara several times, and while it has nice coverage and stays on all day, it's too heavy for my thin lashes to maintain an all-day curl if I use both formulas on my upper lashes. Several years ago I realized that waterproof mascara works best for my lashes, which don't maintain a curl unless I use heat and compression by way of a gently heated lash curler. The waterproof formulas seem to be drier and not as heavy as non-waterproof formulas. While Bombshell Curvaceous acts like a waterproof mascara, the 2 formulas combined weighed down my lashes enough that they just couldn't keep the curl. However, I tried using just formula 2 on my upper lashes after curling them with a heated lash curler, and they retained the curl a bit better. Since I do like to have a second mascara on hand for more casual use, I will likely put this in my travel bag.
The lotion
The Hawaiian Tropic Silk Hydration After Sun Lotion smells amazing. As soon as I opened the bottle, I wanted a fruity adult beverage in my hand and a hot guy fanning me with a palm frond as I reclined on a beach in Maui. This is the effect that Hawaiian Tropic products tend to have on me. I doubt I'm the only one who experiences this side effect. The lotion goes on smoothly and smells great, and the aloe vera inside the lotion is very good at cooling down your skin.
The polish
I will confess that for a long time I thought Sinful Colors was not a good polish, simply because I assumed that its low price point at mass retailers meant it wasn't good quality. When I discovered that they use the same formula as other polishes that cost between $8-10 a bottle, I realized I was being a polish snob. It happens.
Earlier this year, I purchased Sinful Colors polish for the first time (Black on Black – I was feeling edgy, moody and a touch goth) and was very impressed with its coverage and how long it lasted without chipping. The Ocean Side color is a deep turquoise, which will complement many skin tones – even my pale white girl skin. As always, I liked the way it went on and would definitely recommend this product.
The pain relief shot
A couple weeks ago I started my lap swimming schedule again – 3 times a week, starting with 20 laps/session and eventually getting to 50 laps/session. This past week I was so sore when I came home (25 laps, but I hit that water like I was mad at it) that I decided to give the First Aid Shot Therapy a try. While the taste wasn't great (and to be clear, I believe medicine should always taste awful – otherwise you'll never get well), the liquid shot worked quickly to ease my sore muscles and help me relax. These are small enough to stick in your purse or tote for emergency use.
The smoothie
Again with the complimentary, aka free, stuff: there was a coupon for a free Jamba All Natural Smoothies mix inside the Surf's Up Vox Box, so I got the Razzmatazz flavor at my local Safeway. You only need to add 8 ounces of apple juice to the mix in a blender – I grabbed some Martinelli's apple juice at my corner market to use.
This past week there was a small incident with my freezer door being left open for a couple hours (don't ask) that meant the mix thawed out and refroze, which made for larger chunks in the blender that didn't blend as easily as usual. The end product, however, was a very yummy raspberry-blueberry-strawberry smoothie that tastes just like what you'd buy at Jamba Juice. I shared half with Steve, my neighbor, who is a fan of smoothies and juices and he gave it a thumbs-up.
Many thanks to Influenster for sending me the Surf's Up Vox Box to try out!