This week's post comes courtesy of a link from a beloved blogger, Barbara of Bad Tempered Zombie. She posted the story on her Facebook Profile and it is just too good and wacky to not profile for Wednesday's Wackiness.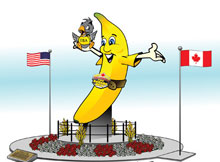 The town of Melita in Manitoba, Canada has decided to erect a 9-m high statue of a banana. For those of you not on the metric system, that's a 30-foot banana. But wait, there's more! This big banana is holding a blue jay in honor of the city's role in bird conservation.
For more info, and to plan your trip to see The Banana That Ate Manitoba, or at Least Caused Its Citizens to Question Its Leadership, click here.
Got some wackiness to share? Send it to me!