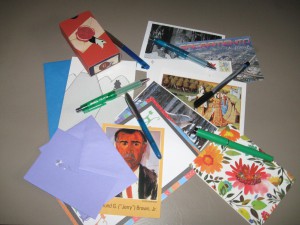 Those of you who have been reading my blog for a while know how I feel about letter writing. Opening your mailbox to see a handwritten postcard or letter is one of my favorite things. Along with brown paper packages tied up in string, of course.
So when I heard about the Month of Letters Challenge through some friends on a social network, I was intrigued. When I read the post about it on novelist Mary Robinette Kowal's website, I was excited. And I decided to participate.
The two-part concept is simple: for every day in February that the postal service runs in your area, mail something. It could be a letter, a note, a clipping from a magazine or newspaper, a photo, a postcard. You can mail something to your next-door neighbor or to someone on the other side of the world. Part two of the challenge is to write back to everyone who writes to you. The bonus is that mailed replies count toward your final tally for the month.
I confess, this will probably be fairly easy for me, since I've been in the habit of sending postcards and notes and cards to people for the past year. But there are a few letters I have wanted to write and haven't, for whatever silly reason, so the Month of Letters Challenge is my incentive to finally write that letter to my childhood friend who lives in Europe with her husband and three daughters.
For those who want to participate but are slightly daunted, fear not. I have provided you with some pro tips:
On a budget? Check your local thrift shop for like-new, unused postcards and stationery. I've scored a large number of postcards from all over the world by going to my SPCA Thrift Store and perusing the stationery/postcard section. Sometimes used cards sneak into the available selection, so check first before buying.
Hate your handwriting? You're allowed to type your letters. Just no emailing. I'm watching you. But consider this: the more you write things by hand, the better your handwriting gets. Unless you're a doctor.
Get some nice writing tools. I am addicted to office supplies, so I don't need another incentive to go to Office Depot, Staples, or Office Max. Trust me when I say a fabulous pen can make all the difference when it comes to handwriting letters. If you can afford a Waterman or Mont Blanc fountain pen, go for it. (Hint: Lamy fountain pens are fairly inexpensive and write nicely.) Otherwise look for a pen that has nice heft to it and doesn't make your fingers cramp. I am a fan of Dr. Grip pens, which come in ballpoint and gel ink. I also like Sharpie pens – they are acid free and don't bleed through paper.
Don't know what to write? Get creative. Relay a funny story about your pet or your child. Share one of your favorite recipes. Transcribe a poem. List five things in a random category, such as favorite movies starting with the letter C, books that changed your life, or your least favorite foods. Hint: using postcards or small notecards means you have much less space to fill up with text.
Join me, won't you? It should be a lot of fun. You have a day to go buy stamps and find some decent stationery. And if you need some pen pals for the month, check out the forums on the official Month of Letters Challenge website.