Turns out most of my blog traffic lately has been due to my post on Mindy Kaling and the Hermès Birkin bag sighting on her show. I find it rather amusing, but also interesting that people are trying to find out more about the bag.
If you follow me on Twitter, you may have seen my rants about the second Birkin bag Mindy was carting around. (I've posted the tweets below, since it's been a while.)
Now @mindykaling is carrying a RED Birkin bag! Who the hell has TWO freakin Birkins?! #themindyproject

— GirlwithMoxie (@GirlwithMoxie) February 20, 2013
There's the red Birkin again! Dammit @mindykaling! My belief is beyond suspended. It's in the stratosphere now. #themindyproject

— GirlwithMoxie (@GirlwithMoxie) February 20, 2013
The second Birkin was a lovely shade of geranium pink (not a true red, as it were) and it goes for 16,999 here.
Then there were three.
The third Hermès Birkin bag, according to the folks over at Createurs de Luxe, is valued at over $22,750.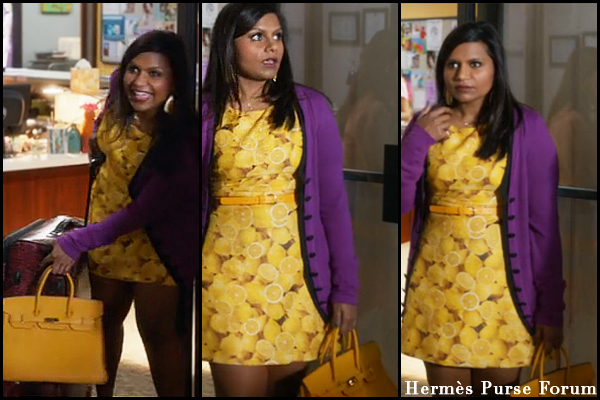 It was after this third bag that I decided to stop watching this show. I couldn't even make it to the season finale this past week, which according to a couple TV pundits & bloggers was quite good.
But I have tapped out. All because of three expensive handbags.
Now, to be clear, I don't have a problem with Hermès, or the Birkin bag. I think they are gorgeous and lovely, and if I had the income that allowed me to purchase one without having to live in my car for a year three years, I would totally do it. My problem is with the production team for "The Mindy Project" and Mindy herself for having this character lug around $56,748 (according to my math) in purses. It requires a major suspension of disbelief that I'm unwilling to do.
If you watched "Sex and the City" you may remember the Season 4 episode "Coulda, Woulda, Shoulda" where Samantha (Kim Cattrall) uses client Lucy Liu's name as a way to get herself bumped up on the waiting list at Hermès for a Birkin. That was believable. And I'm willing to give Mindy the luxury of one Birkin bag – the initial Bleu Jean Leather Birkin, to be exact. I can find it believable that a female OB-GYN in Manhattan would have one mega-expensive handbag in her accessory repertoire. But for a character to lug around three different Birkin bags in the course of one season, without any other female character making a comment or wisecrack about the purses, is highly suspect to me.
What's interesting is that the folks over at Hermès Purse Forum don't know if the bags belong to Mindy or if they are on loan from a production company. Not sure if the company would tell them, or anyone else for that matter, if the bags belong to Mindy. And if they do belong to Ms. Kaling, it's time to keep the bags off the show and on her arm in tabloid photos, where they belong. From what I've read, Dr. Mindy Lahiri, her character on the show, is supposedly going to Haiti, where, for the cost of just one Birkin bag, you could feed the entire country for a month.
So that's it for us, Mindy. We're over. Maybe, in time, we'll look back on this period in our lives and laugh about how silly it was for me to get hung up on some expensive purse. But for now, it's best we part. And when I sell my novel and can buy a Birkin of my very own, I promise to consult you first.