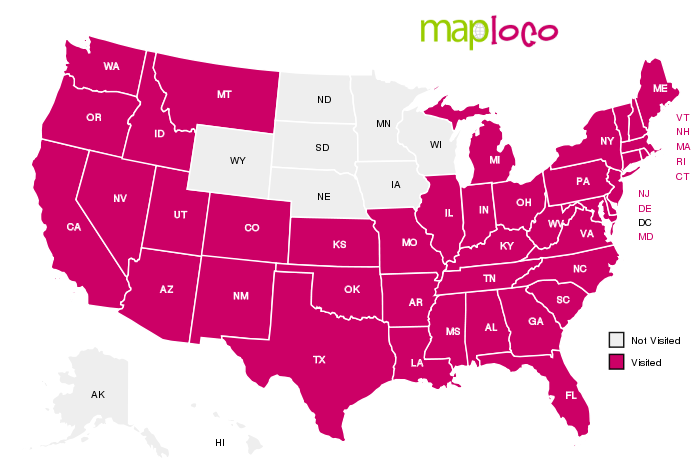 Create Your Own Visited States Map
This interactive map is floating around on the interwebs so I thought I'd give it a whirl. I've visited way more states than I thought, though a few of these are ones where I didn't do much beyond stop to pee, have a snack or get gas, as most of my visits were during road trips with Pops and Momcat. We did several drives to New England when I was growing up, as summers in the DC area were humid and uncomfortable. Imagine living in a sweatsock or plastic bag and that's what mid-Atlantic summers are like, though the beach areas are really nice.
My travels through the southern part of the U.S. were trips down I-95 to see my grandparents in Florida, and all my midwest travels are due to having family in Michigan. In 2008, I went to New Orleans on vacation: I went to Voodoo Experience, a 3-day concert event at City Park, to see a ton of amazing bands & singers, including Stone Temple Pilots, Nine Inch Nails, R.E.M., Thievery Corporation, Erykah Badu, Joss Stone, Wyclef Jean, etc.; I wandered around the French Quarter; I had a hurricane at Pat O'Briens; I ate beignets and drank coffee at Café du Monde. Great trip.
There's a good chunk of the southwest I wouldn't have seen if it hadn't been for three cross-country drives from Maryland to California with Pops. The first was in the mid '80s. Pops signed up with a car delivery service and we drove a two-seater Mercedes out to L.A., cutting through the middle of the U.S. I remember watching the speedometer hit 100 a few times in the desert – Pops had a blast driving that car. In 1991, our second cross-country drive took a southern route, and that's when I first remember seeing the road sign for Galax, Virginia – the setting for my novel in progress (which is close to complete, whoo hoo!). The third cross-country drive was when I moved to California in early 2000, the station wagon loaded down with my computer and clothes.
I also wouldn't have gotten to see Idaho and Montana if it hadn't been for a road trip with Pops. Last summer he did what I call Pops' Poker Tour, driving his car to California and stopping along the way to play Texas Hold 'Em at various casinos. He spent a few days in CA with me, then we drove to Montana, stopping in Idaho and visiting Yellowstone along the way. Gorgeous drive.
Just looking at the map and thinking about all the places I've been gets me all nostalgic for a good road trip. I highly recommend them, especially if you have kids who are old enough to appreciate them. It's such a fantastic way to learn about the U.S. and how people live in different parts of the country.
Where would you go on a road trip?