Over the past 7 years I have developed a daily ritual that has become a key part of my self-care routine. Soon after I wake up, I fix myself a beverage – hot coffee or tea when the weather is cool, and cold-brew coffee over ice with almond milk and stevia in the summer – and sit down in a comfortable spot with my journal and a pen. The pen is usually a fountain pen. I love fountain pens for making my handwriting look beautiful, plus there's a huge variety of ink colors and it's much less strain on my fingers and wrist to glide a fountain pen across the page.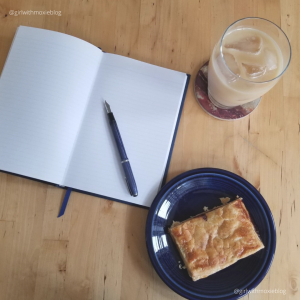 In the course of an hour, I sip my drink and write out my thoughts. Sometimes this includes a recap of the dreams from the night before (in recent months I've taken to using a different color ink for jotting down dreams). Often I go over some of the happenings from the previous day. Some days I have a pastry or waffle to nibble on while I write. And I frequently have one of my 2 cats lying nearby, flicking their tail and blinking at me.
Establishing this daily writing ritual has proven to be such a blessing. It starts my day with a quiet, soft reflective activity that allows me space to process and set my intentions going forward. I don't rush myself or set a timer. I let the words flow out as they need to and I stop when it feels right.
Some days the ritual is a little different. I may do more stream of consciousness writing or a free write in another notebook dedicated for that purpose. Or if the thoughts & ideas are coming really fast, I sit at my laptop and type them out. On multiple occasions the laptop writing sessions have turned into a blog post. But mostly they are for my eyes only.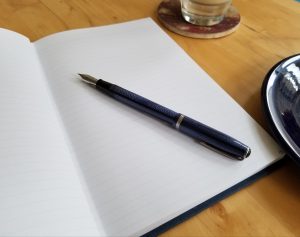 I've had people ask me how to establish a writing practice, or they want to know the "right" way to do what are often referred to as "morning pages." I'm not a big fan of rules when it comes to generating content, whether for your own personal use or in your career. But here are a few things I've learned over time when it comes to journaling as part of self-care and creating a daily ritual that involves writing.
Pick a time when you can set aside at least 15 minutes to focus solely on writing. This time may be different from day to day, and there may be days when you cannot squeeze out 15 minutes. But if you can spend 15 minutes scrolling through social media feeds or reading articles online, you can devote 15 minutes to a writing session.
Find the writing tools that feel good to you. Don't want to write by hand? That's fine – you can use your computer or other device. You can even do voice to text if that works better for you, but know that voice recognition may lead to some unusual copy when you review it later. Do not ask me how I know this.
When you don't know what to write about, keep it simple. Sometimes the blank page can feel intimidating, especially if you are just starting a writing practice. Here are a few opening lines that can get you started. Pro tip: when you really feel stuck, write down a list of things you love or hate.

Here is what I know:
Here is what needs to be written right now:
All the ways in which I have had it: [This is a personal favorite for when I need to rant.]
If you're interested in exploring analog options for writing, visit my other site, Pensplaining, for product reviews & tips.