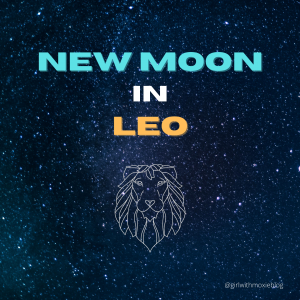 Today marks a New Moon in Leo. New Moons are "no moon," meaning that it is not visible because of its alignment with the Sun. Yet despite its cloaked nature, this moon phase is associated with the power of a fresh start. Farmers who follow moon phases for planting use the New Moon to plant annual flowers or fruits and vegetables that grow above ground, such as corn, tomatoes, squashes and melons.
We can use this same energy in our personal development by using the New Moon to plant seeds that we wish to grow. Determining what we'll plant depends on the zodiac sign in which the New Moon happens, as the Moon will be Full in this same sign in six months' time, when we harvest what we planted.
Moon in Leo
When the Moon is in Leo, it combines the emotional, intuitive, home-loving characteristics of the Moon with Leo's loyalty, creativity and sense of drama. Whoever coined the phrase "go big or go home" may well have been a Leo Moon. This placement wants love and comfort, but also wants a controlled, organized environment in which they are in charge. Prepare to hear the lunar lion roar when it's happy, excited, amused or feeling playful. But when a Leo Moon feels badly hurt, it may not do much at all.
When I was a kid, my mom often said to me, "If someone hurts your feelings, say 'ouch.'" She wasn't a student of astrology, but it was good advice for me, as I have a Leo Moon. There have been many times I've felt hurt or betrayed by someone's behavior, but will come home to lick my wounds rather than publicly call out the person. Above all else, a Leo Moon has pride, and unless circumstances force the issue, they will exhibit a controlled emotional response.
This New Moon in Leo encourages us to plant seeds in the areas of:
• Creative pursuits
• Emotional vulnerability
• Leading with heart, not head
• Acknowledging our gifts, talents and skills
With this in mind, try out my New Moon Tarot Spread to gain clarity and insight in these aspects of your life.
New Moon Tarot Spread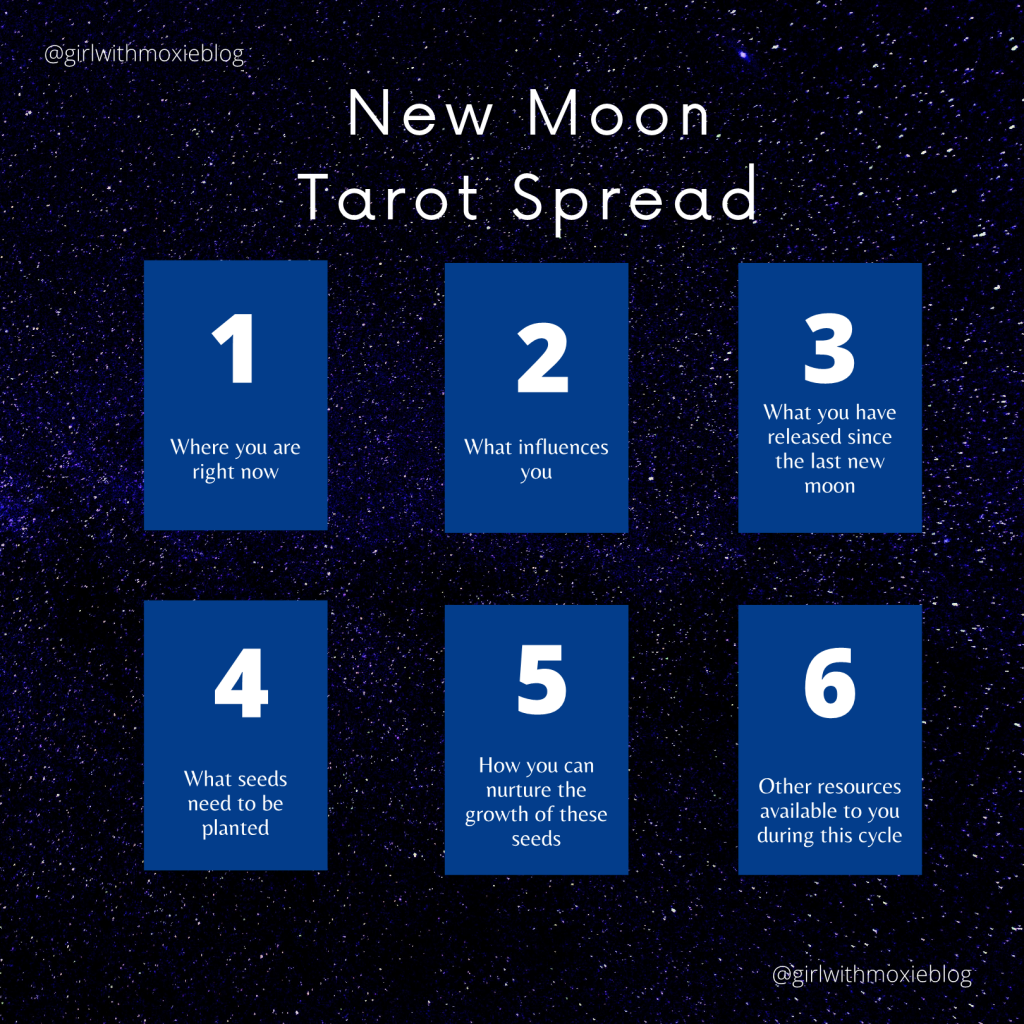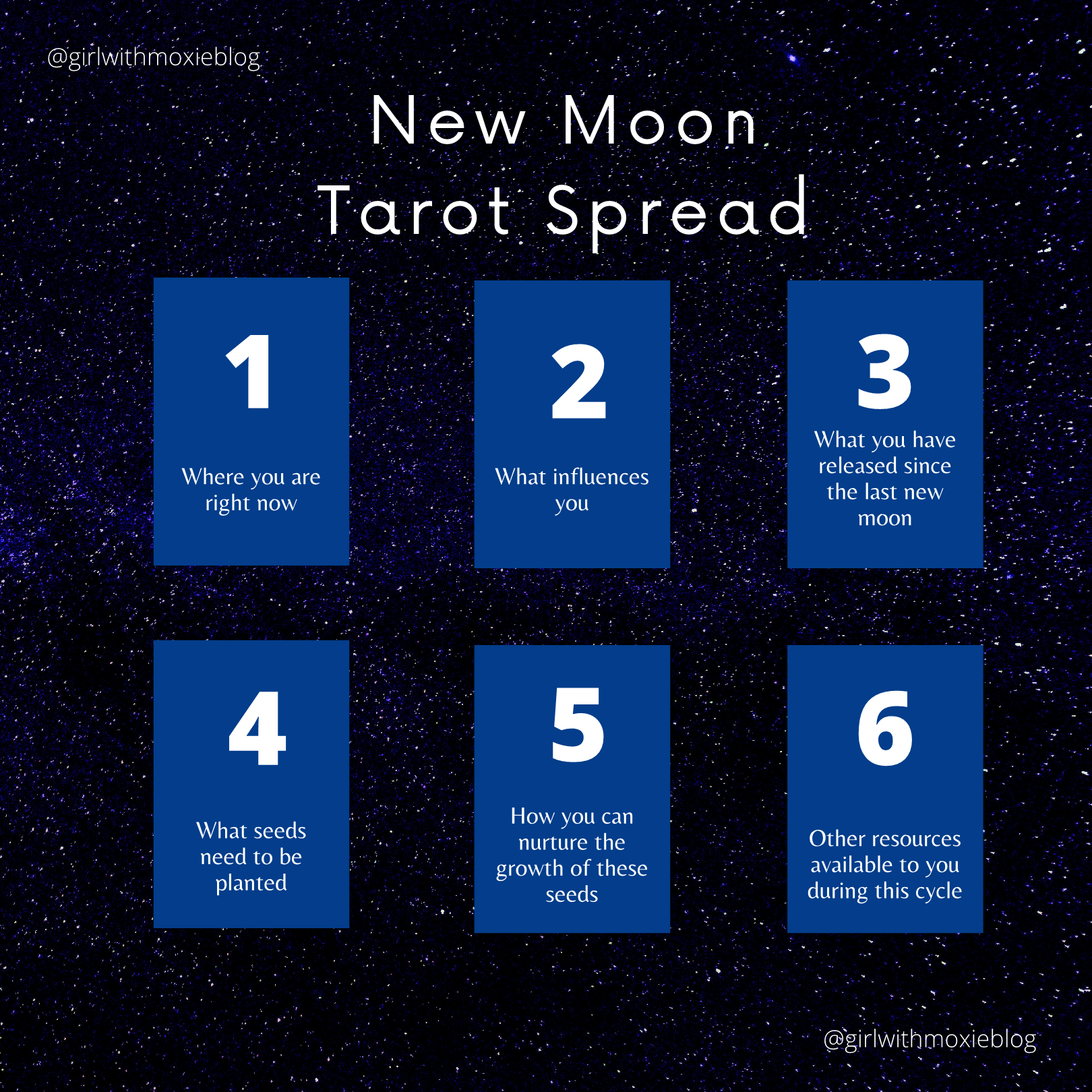 This New Moon Tarot Spread is one I began using earlier this year during my new moon rituals. It is designed to help you discover the seeds that need planting at this point in time, so that when the full moon in Leo occurs on January 28, 2021, you can reap a bounteous harvest.
Shuffle the cards and cut the deck as many times as you feel you need. As you shuffle, take several deep breaths and center your thoughts on yourself and your desire for deeper knowledge and foresight.
Lay out the cards in rows of 3 cards each.
1. Where you are right now
2. What influences you
3. What you have released since the last new moon
4. What "seeds" (your goals and plans) need to be planted
5. How you can nurture the growth of your goals and plans
6. Other resources that are available to you during this cycle
Tips on Making the Most of Your Reading
Write it down. I like to record my readings in my journal, adding any notes or interpretations on the reading in a contrasting ink color. Before I begin the reading, I write down my current state of mind.
Take your time. Schedule a time to do your reading when you won't be disturbed. I find that my new moon readings can be done within 24-48 hours of the new moon being exact and I still get a very insightful reading.
Focus your energy. Turn off your phone, music, TV, etc. Sit silently for several minutes before you do your reading. If you do any other ritual work with moon cycles, include the reading as part of your practice.