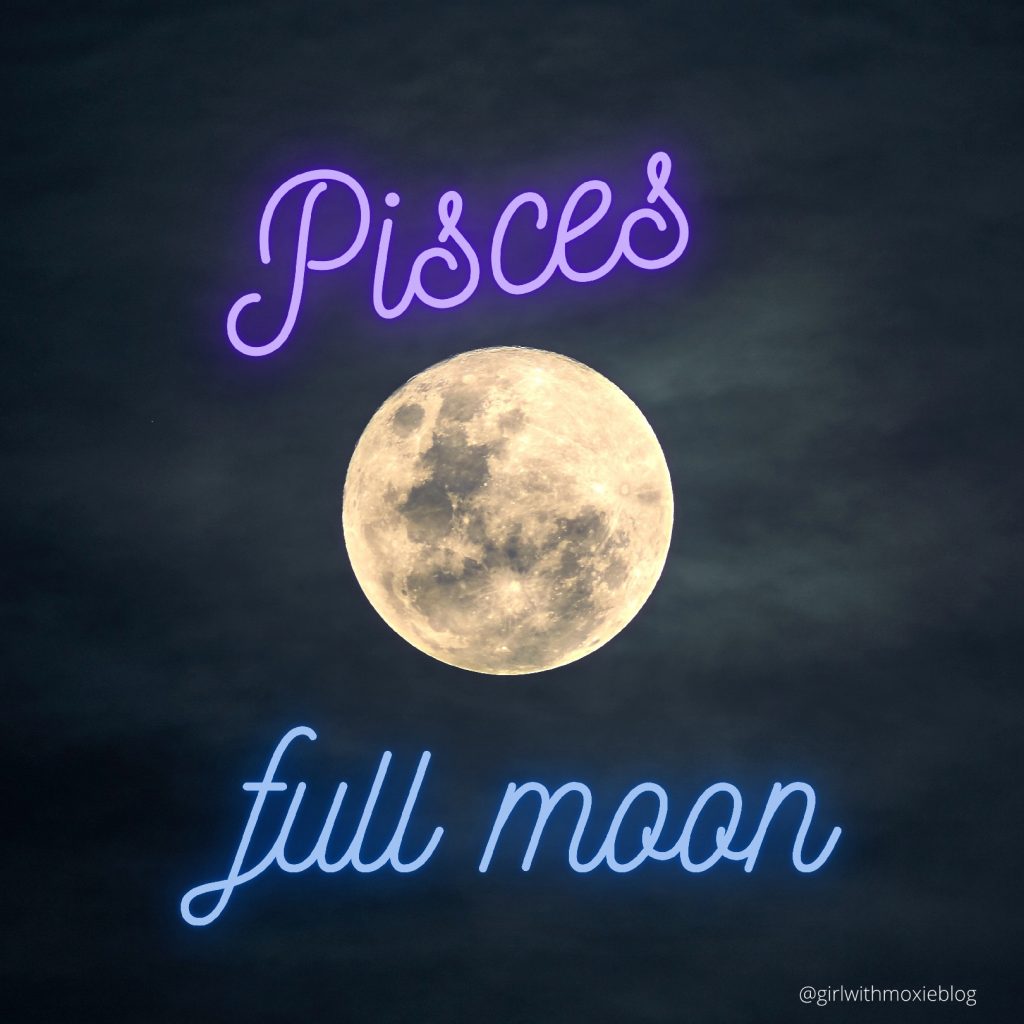 The Pisces Full Moon happening on September 1, 2020 (or in the early hours of September 2, depending on your time zone) is a beautiful time to dream and reflect. We may feel more inclined toward emotional responses – tears close to the surface, for example, or moodiness – yet also feel receptive and softer than ever before. The Moon, which rules Cancer, a cardinal water sign, is more at home in Pisces, a mutable water sign, but it can easily get lost in the depths, or unable to maintain boundaries when necessary.
Moon in Pisces
When the Moon is in Pisces, it's as if a spell has been cast over the collective, making us all a bit more tuned in to emotions and the subconscious desires of others. Some folks who have a highly developed intuition may feel extra sensitive during this time. Artists, writers and other creatives may feel overwhelmed with new ideas for projects. Dreams may be more prophetic or insightful. I like to imagine a Pisces Moon – especially this month's Pisces Full Moon – as rising out of the ocean, soaking wet, with a neon blue octopus clinging to its craters.
Since I began studying astrology 20 years ago, I've come to know several people who were born when the Moon was in Pisces. They are dreamy souls, with an ability to see into the subconscious in ways that others cannot. They have incredible compassion and an innate understanding of humanity's deepest needs. But these Pisces Moon natives also tend to get waterlogged, struggling to find solid footing in the real world.
At this point in 2020, the pandemic, protests, natural disasters and political activities around the world have lit up those areas where humanity is in need of massive change. We have experienced some collective grounding due to all these events and situations, and it's caused immeasurable stress. This Full Moon in Pisces offers an opportunity for healing by allowing us to soften our gaze and dream a little. We get a chance to visualize what's possible by tuning in to what unites us – and later using those visualizations to fuel practical, real-world solutions.
Here are some ideas for things you can do to channel this Pisces Full Moon energy. For optimal results, do these activities between Monday night and Thursday afternoon.
Activities for the Pisces Full Moon
Get wet. Dance outside in the rain, go for a swim, take a bath. Pisces and the Moon are both connected to water.
Visit a body of water. If you live close to a stream, river, lake, or ocean, the Pisces Full Moon is a wonderful time to visit and reflect on the role and meaning of water in your life, and give thanks for its existence.
Eat some seafood. Embrace your inner pescatarian and have a meal of fish and shellfish.

Vegetarians/vegans can enjoy cauliflower, cabbage, cheese, cucumbers, melon, mushrooms, pumpkins or turnips – these are all Moon-ruled foods.

Start a dream journal. This journal could include a daily log of your dreams, as well as a place where you can explore the dreams you want to manifest in the world. For tips on recording your dreams, check out this article.
Stare at the clouds. If the weather permits where you live, take a blanket outside, lie down and watch the clouds roll by.
Take care of your feet. Pisces rules the feet, so a Pisces Full Moon is a great time to pamper them. Give yourself a pedicure or foot massage – or give one to your partner. Even simply washing your feet and following up with lotion or cream can be incredibly soothing.
Colors for the Pisces Full Moon
You can wear these colors in your clothing, jewelry, makeup or nail polish.
Iridescent and opalescent shades
Silvery grey
White
Crystals for the Pisces Full Moon
You can place these crystals on your altar, if you have one, or in a prominent place in your home for 2-3 nights during the Pisces Full Moon.
Chrysolite or peridot
Coral
Moonstone