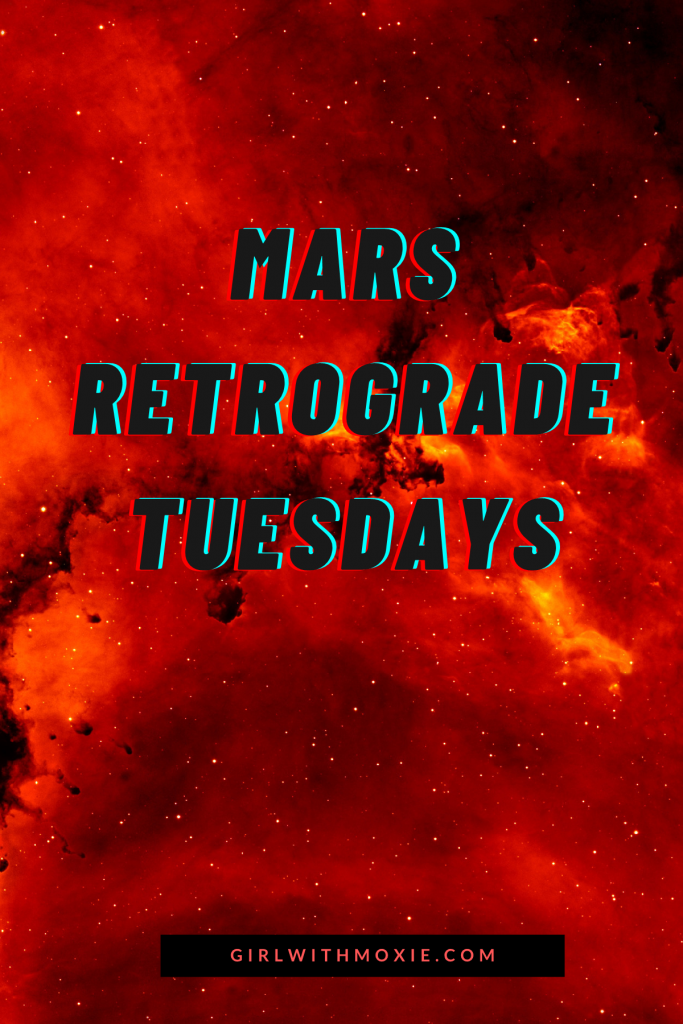 Mars, the planet of action, ambition, anger and athleticism, turns retrograde on September 9, 2020 in the sign of Aries, one of two signs the Red Planet rules (the other sign is Scorpio). It will appear to travel backward in Aries through November 13, 2020. During this time, we can expect to see some halted plans; any forward momentum we had may be thwarted. This can affect our activities at work, home, and school.
Retrograde isn't all that bad, though. Any time a planet is in retrograde motion, we are given an opportunity to shift our focus to more inward pursuits:
Reflection
Review
Revision
Reassessment
The focus of the inner work is based on the areas ruled by that planet. In the case of Mars, those areas include:
Physical activity
Ambition and goals
Passion, lust, and sex
In the same vein as Venus Retrograde Fridays, I suggest taking one day a week during the retrograde cycle to do work in these areas. Since Mars rules Tuesday, set aside some time that day for Mars Retrograde Tuesdays. Beginning with September 15, 2020 and ending with November 10, 2020, here are some Martian activities to try:

Move your body. If you haven't already been exercising regularly, now is the time to get back on the bike, lace up the running shoes, roll out the yoga mat, and/or dust off the treadmill. Don't push yourself if energy is low – lowered stamina is possible during Mars retrograde – but a 30-minute walk will get your circulation going and your heart pumping. One caveat: if you have been sedentary for a long time, don't start a vigorous new exercise regimen. Use this time to research different physical activities you might want to try, or talk with your health care provider about ideas.

Eat something spicy or grilled – or both! Mars rules garlic, ginger, and peppers, so cook up some Szechuan stir-fry, a Thai or Indian curry, or a Mexican feast. (You can check out my recipe for homemade salsa here!) Since Mars also rules fire, a grilled entrée or side dish would be perfect for Tuesday dinners.

Channel your anger. This year has provided more than enough opportunity for outrage – but how are you working with that anger? How has it been manifesting in your life: physically, mentally, emotionally, spiritually? Some ways to work through your anger include:
writing letters to the people/places/things that make you angry (and not sending them – remember, you're processing this anger for your own personal reflection and to get them out of your system)
joining a protest (if you can do so safely)
contacting your local and state legislators to express your frustrations
signing and sharing petitions related to causes you feel passionate about
Assess your personal and professional goals. Mars likes to make things happen, but during a retrograde period, that drive to achieve and succeed may be thwarted. Sit down with paper & pen and write out your personal and professional goals. Where do you want to see yourself in a year? In five years? Now's the time to see where you're at and where you want to go.
What about Sex?!
Mars also rules passion, lust, and sex – and it's those aspects that often make the headlines for Mars. During a Mars retrograde cycle your sex drive may be the complete opposite of what it usually is, or you may find yourself sexually frustrated with your partner. If you're not sexually active, Mars retrograde may leave you feeling restless, unmotivated or dealing with a creative blockage (especially if you are an artist or writer).
How to deal with all of this pent up sexual energy? A few suggestions:
Remember this is temporary. Even if you are skeptical about astrology and its effects on daily living, our sex drive ebbs and peaks over time. Shift your attention to something else when the frustration gets overwhelming: exercise, singing or dancing may help.
Open the toy chest. Since retrograde cycles are about reviewing and reassessing the areas of life ruled by the retrograde planet, take time to review what gives you pleasure sexually – and that means open up your toy chest, buy some batteries and figure out what turns you on.
Talk with your partner. Emotions may be running hot while your libido isn't, and that can definitely cause friction (and not the good kind, either). Open up conversations with your partner about your sex life: what you love about it, what you'd like to try out, what you'd like to work on making even better.
You're not restricted to just Tuesdays for these Mars-centric activities, of course. Working through anger issues is good at any time, and exercising at least 3 times a week is ideal. But sometimes it helps to know that there's one day a week devoted to specific self-care rituals, and that's what Mars Retrograde Tuesday is all about. Make the most of it!
Image attributions:
By derivative work: QuartierLatin1968 (talk)Berlin_-_Brandenburger_Tor_-_Mars.jpg: Oliver Abels (SBT) – Berlin_-_Brandenburger_Tor_-_Mars.jpg, CC BY 2.5, https://commons.wikimedia.org/w/index.php?curid=74302639
Closeup of statue face
By Dosseman – Own work, CC BY-SA 4.0, https://commons.wikimedia.org/w/index.php?curid=78185777
Planet
By ESA & MPS for OSIRIS Team MPS/UPD/LAM/IAA/RSSD/INTA/UPM/DASP/IDA, CC BY-SA IGO 3.0, CC BY-SA 3.0-igo, https://commons.wikimedia.org/w/index.php?curid=56489423