Here it is, folks: the final Mercury retrograde cycle for 2020. On October 13 at 9:05 pm Eastern time, Mercury goes retrograde at 11 degrees Scorpio, backs it up into Libra on October 27, then goes direct on November 3 at 25 degrees Libra– just in time for the U.S. election. If you think this energy will make for a wild, strange October, you'd be right. But it's not unmanageable – and that is saying a lot coming from me. More on that in a minute.
Mercury: The Basics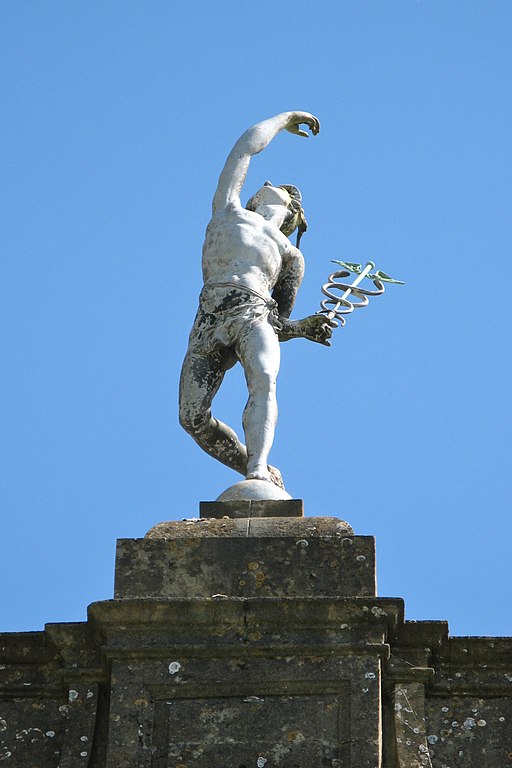 Mercury (Hermes) is the messenger of the gods in Greek and Roman mythology. He did a lot of dirty work for Zeus, serial cheater who had a vengeful wife, Hera. He also saved the lives of several mortals and demi-gods who found themselves in difficult positions. Mercury is also a trickster and shapeshifter. He loves a good joke or prank. Some of the things Mercury rules includes:
Advertising
Bees and beekeepers
Books and literature
Communication – written, oral and electronic
Computers
Desks and offices
Keys
Licorice
Mirrors
Schools and teachers
Sewing
Stationery – pencils, pens, paper
Travel (particularly short trips)
Transportation – buses, trains, cars, bicycles
Writers and editors of all kinds – journalists, newspaper reporters, proofreaders, editors, novelists
In astrology, the term retrograde refers to when a planet appears to move backward through the signs. Retrograde cycles for the planets vary – and Mercury's retrograde cycles are among the shortest, logging in at approximately three weeks. If it feels longer, that's due to the shadow period, an approximately two-week period when Mercury is moving along a path that it will revisit later. There's a pre- and post-retrograde shadow period: typically the post-retrograde shadow is not as intense as the pre-retrograde shadow and is more of a final review of everything that occurred during Mercury retrograde.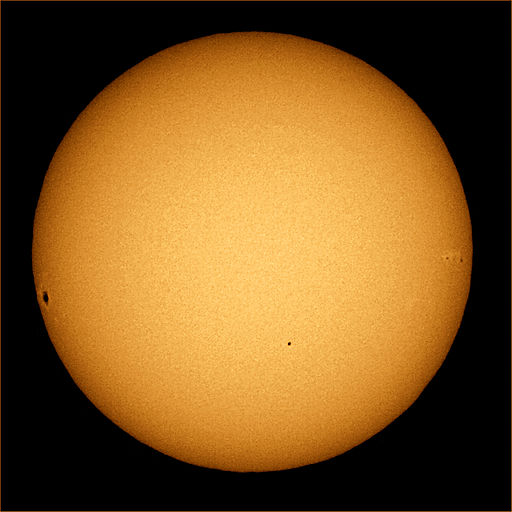 Mercury managed to get the best PR team out of all the planets because so many people are aware of Mercury retrograde cycles and how it affects traffic, electronic devices, and communication. As a Gemini rising, I am all too aware of my love-hate relationship with Mercury, as he rules both Gemini and Virgo. I cannot tell you how many times I have cursed him out while dealing with a phone issue, downed wifi, car issues, or some other shenanigans. But I have also learned the necessity of planning ahead and being extremely organized before retrograde cycles, and going above and beyond my usual efforts to ensure my emails and social media posts are clearly written. I will review plans and task lists with clients and colleagues both verbally and in writing, so that we eliminate any possible confusion. I try harder to shut my mouth and listen to other people, too.
As you've read in my previous posts about Venus retrograde and Mars retrograde, you know that retrograde periods are a time to move inward. It's an opportunity to slow down and be reflective on what that sign rules. And since Mercury rules Wednesday, I encourage you to celebrate Mercury Retrograde Wednesdays during his final retrograde for 2020. Starting on October 14 and ending October 28, spend the next 3 Wednesdays honoring this versatile, multitalented planet with some very mercurial activities.
Activities for Mercury Retrograde Wednesdays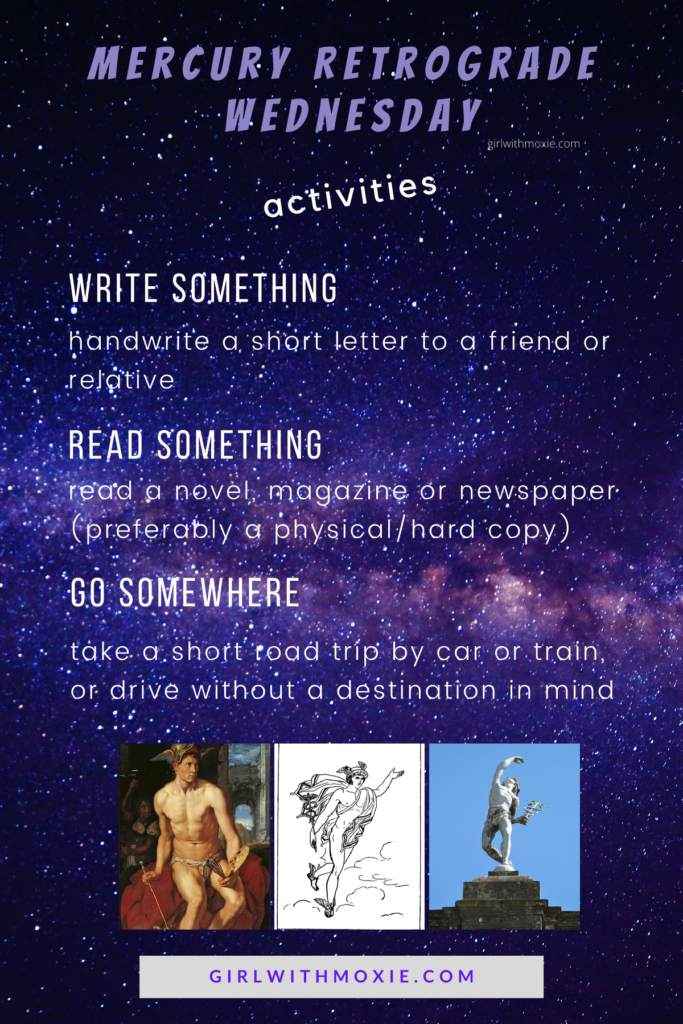 Write it down. Get a notebook or journal and write down what's on your mind. Give it all to the page – it can handle what you have to rant or rave about. Read my post about daily writing rituals if you need some suggestions on how to start.
Take a little trip. Get in your car or on a train – whatever feels safest for you – and set off on a day trip. To really honor the free-spirited, impulsive nature of Mercury, don't plan out where to go (but do make sure the car is full of gas, tires are properly inflated, etc.). Allow yourself to be surprised. Bonus points for bike rides!
Read. Mercury rules the written word, so grab a book or magazine or newspaper, your favorite beverage and maybe a snack, and settle down in a comfy chair to read. For this activity, I recommend going analog – Mercury may decide to zap your phone or tablet just when the action gets exciting, because he is a jerk like that sometimes. Do not ask me how I know this. Mercury also rules humor, so a collection of humorous essays or a satirical novel is an excellent choice.
Reorganize your office/work area. This includes your desk, files, shelves and bookcases. Definitely keep this activity to physical items – otherwise you may end up deleting computer files you needed. Again, do not ask me how I know this.
Watch something funny. Mercury loves to laugh, so scratch that itch by watching a movie or sitcom that makes you laugh. A standup comic special is also an excellent choice.
Clean the mirrors. Get some window cleaner or a spray bottle of white vinegar (my personal choice), a soft clean rag or paper towels, and clean all the mirrors in your home. You may even want to set up a new mirror somewhere, or perhaps buy a compact mirror for your go bag or purse.
Handwrite a letter or note to someone. Mercury rules handwriting, pens, pencils, and stationery, so this is an activity he can totally get behind. If you have no idea what to write, here's a list of ideas.
Call a relative. Pick up the phone and call your mom, dad, sibling, your favorite uncle, the aunt who sends you care packages (shout out to my Aunt Gigi*) and check in with them. Doesn't have to be a long conversation, nor does it have to be a heavy one. Just keep it light and loving, and you'll both feel good by the time you hang up.
Sew. Mercury rules sewing machines AND needles, so if you enjoy sewing, set aside time on Wednesdays to sew a small project or work on a longer one. I love to sew, and I plan on doing this as much as possible – but you best believe I'll be having a chat with Mercury ahead of time about not dicking with my machine, breaking needles, or jamming up the bobbin. Brand new to sewing? I highly recommend the Crafty Gemini's tutorials for beginners.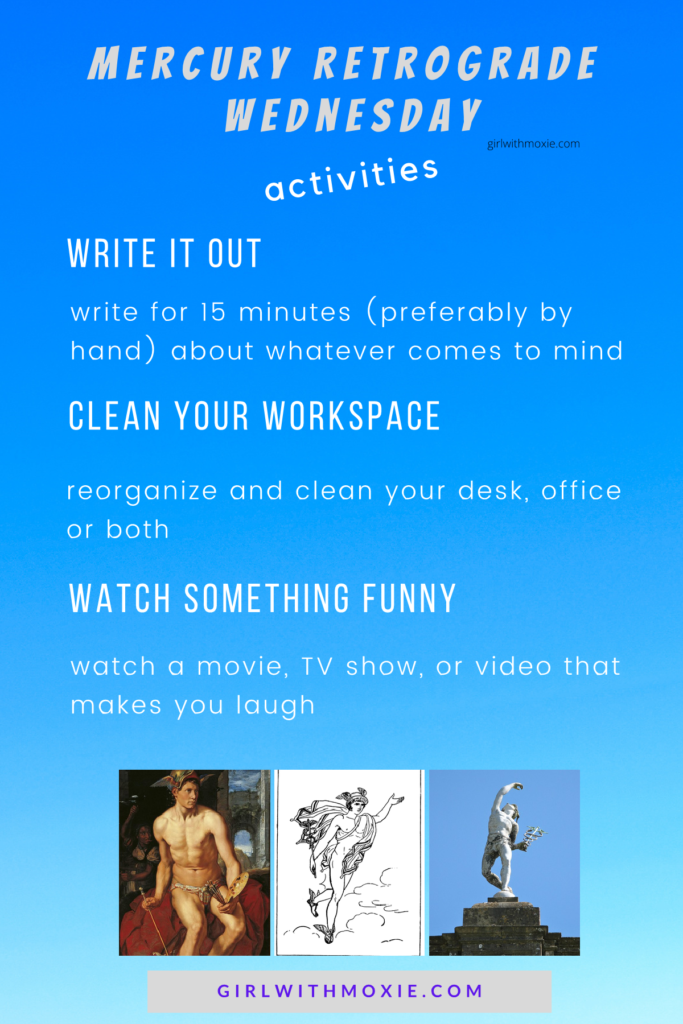 There's a lot of planetary activity this year that poses some major challenges for all of us, and Mercury retrograde is just another part of it. But if we come at this cycle from a place of honoring the shift in perspective that's required during Mercury retrograde, it can be a much easier transit to manage. Laugh along with Mercury as much as you can!