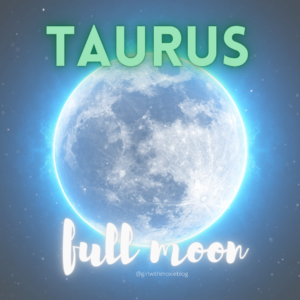 The last day of October features a triple whammy: a full moon in Taurus that also happens to be a blue moon (meaning it's the second full moon in a month – there was a full moon in Aries on October 1) and it's on Halloween. Whew! But there's no need to be scared: this earthy full moon is here to help us reflect on what we have, what we love, and how to achieve balance between our wants and desires.
In traditional astrology, planets are in their dignity, detriment, exaltation, or fall in certain signs. When a planet is in its dignity, that means it's in the sign it rules; a planet is in its detriment when in the opposing sign. Exaltation refers to a sign where a planet is strong, happy and thriving; the fall is the sign opposing the exalted position. In the case of the Moon:
Moon in Cancer = dignity
Moon in Capricorn = detriment
Moon in Taurus = exaltation
Moon in Scorpio = fall
This isn't to say that certain planetary positions are good or bad. In the same way that we interact differently with our best friend than we do our parents, planets and signs work together in ways where there can be challenges – and also blessings. In the case of Moon in Taurus, the Moon comes out of Cancerian waters and finds a warm, comfortable home full of lovely creature comforts where it can ground itself and rest. Taurus moon energy is stable, secure and sentimental. It loves romance and routines. And because Taurus is a sign centered around sensual pleasure, when the Moon is in Taurus it's very interested in sensory experiences that elevate their emotional response.
Oppositions in Astrology
As I've mentioned in a previous post, when the Moon is Full, it's in the sign opposite the Sun. Opposing signs have similar goals but take different paths to get there. When it's the Sun and Moon in opposing signs, it's about the ego and personality (Sun) finding balance with the emotional, instinctual response (Moon).

If you ever played on a see-saw or teeter-totter as a child, it may help to imagine the Sun and Moon on either end of a see-saw. One planet may be sitting heavily on one end, holding all the power, while the other planet is high up on the other end. But taking all that power can get tiring after a while, especially if the elevated side is shifting around a lot, demanding attention and equal time.
I find natal oppositions of personal planets and/or "the big three" (sun, moon and ascendant signs) to be fascinating, because it's ripe for lessons in balance, boundaries and cooperation. My mother – who I refer to as Momcat on this blog– was a Taurus Moon with a Scorpio Sun. She had a lot of loyalty & devotion for her family and loved ones. She cooked balanced, nutritious meals and made a comfortable home for me and my father (who I refer to as Pops on this blog). Momcat was well acquainted with tragic loss from a young age, and she grew up in poverty. Her Scorpio Sun longed for transformation, and she worked very hard to overcome adversity & created a better life for herself as an adult. But she also struggled with hoarding – acquiring more than she could manage – which I see now as being her Taurus Moon working through the shadow side of finding emotional comfort in material possessions.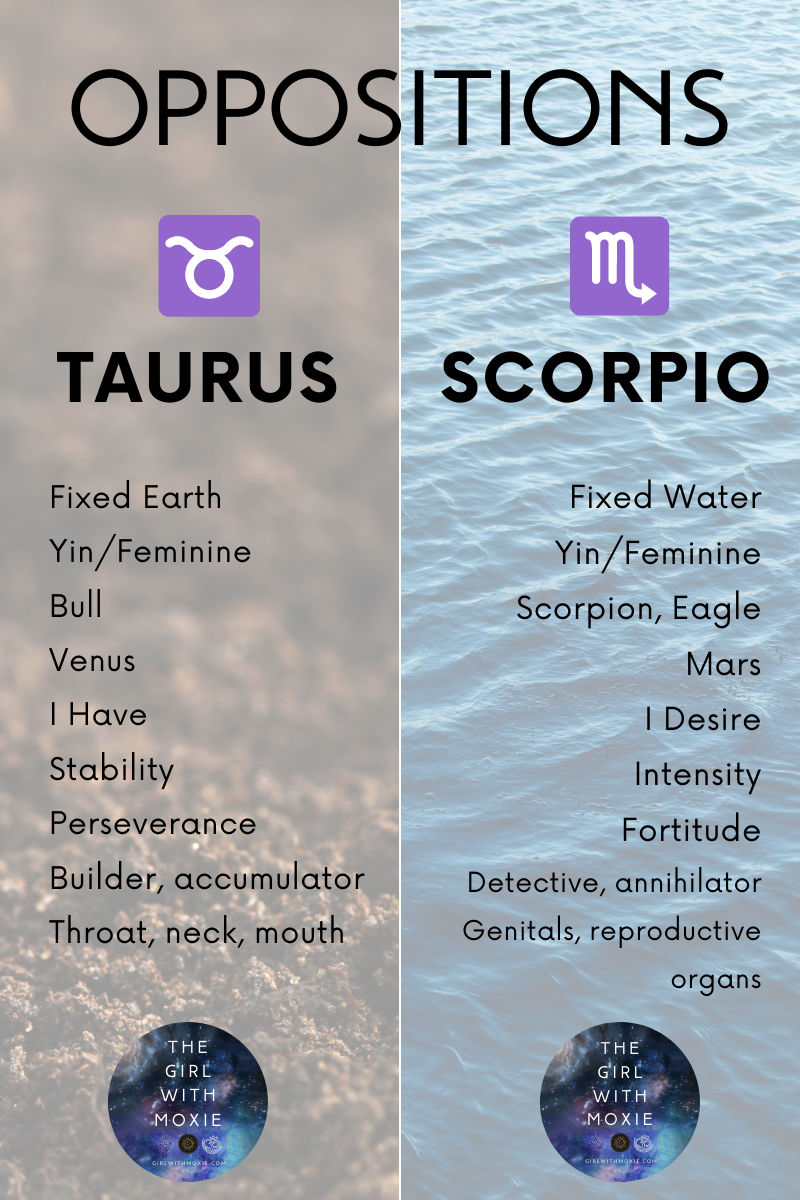 Moon in Taurus
The Taurus Full Moon is inviting us to assess our relationship with our stuff. Are we holding on so tight that we cannot see when it's time to let go? Do we keep broken, worn-out items in our lives because we are afraid something better won't be available to replace it?
Taurus' motto is "I Have", while Scorpio's motto is "I Desire." Scorpio energy is about the cycle of life, death and rebirth. It is about discarding what no longer serves us so that there is room for something new. Pausing that cycle out of fear means that anything we are attempting to manifest – a job, romantic partner, home, car or whatever – also gets put on pause.
Whether or not we have oppositions in our own natal astrological charts, we can use Full Moons and the opposition they represent as an opportunity to achieve harmony through releasing what no longer serves us.
Crystals for the Taurus Full Moon
You can place these crystals on your altar, if you have one, or in a prominent place in your home for 2-3 nights during the Taurus Full Moon.
Chrysocolla
Jade
Red jasper
Rhodonite
Rose quartz
Selenite
When the Moon is full, regardless of the sign it's in, the collective unconscious is hard at work seeking to learn the value of balance, respecting boundaries, and honoring our emotional needs while being mindful of our greater goals. I hope your Full Moon experience this month brings you whatever healing and release your mind, body and spirit needs to transform.
Want to try out my Full Moon Tarot Spread? Check it out here.
If you enjoyed this post, please consider making a donation.