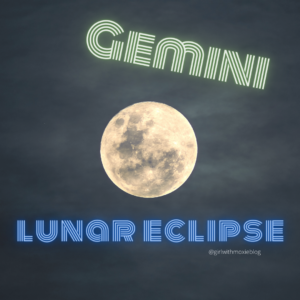 In much the same way that October ended with a powerful Full Moon in Taurus, November ends with a Lunar Eclipse in Gemini. Lunar eclipses occur when the Earth's shadow blocks the Sun's light. In astrological terms, a lunar eclipse is a Full Moon hopped up on caffeine & energy drinks. All the energy that we've come to expect during a Full Moon is amplified during a lunar eclipse.
Moon in Gemini
If you've been reading my lunar posts for the past few months, you're well acquainted with the Moon's rulership over emotions, intuition, instinct, and more receptive/yin energy. When the Moon is in the sign of Gemini, it is chatty, versatile and a tad flaky. It's high energy and wants to keep busy. But because Gemini is interested in communicating, it's way more interested in talking about feelings that come up – and not always about actually feeling them.
I want to emphasize, though, that Gemini isn't a bad placement for the Moon. If we think of the Moon's movement through the zodiac as a quest or hero's journey, then its travels through Gemini are important because it becomes emotionally curious, trying on different feelings and experiences to see how they feel. Before the Moon stepped into Gemini, it was in Taurus, which you'll remember is where the Moon is exalted. Personified, Moon in Taurus is all snuggled up in a blanket, sipping hot cocoa and watching baking shows. It's all about creature comforts. In Gemini, the Moon throws off the blanket, turns off the TV and puts the mug in the sink and says, "Gosh, I'm bored. Let's do something! What else is there to do? What would it feel like if…?" This emotional curiosity gets satisfied by the time the Moon enters Cancer, the sign it rules (also known as its dignity).
With this in mind, the Gemini lunar eclipse is our opportunity to look at what's going on in our lives and examine all the possible emotional responses we can have. Our investigations take place in the house where the lunar eclipse falls.
Questions to Consider during the Gemini Lunar Eclipse
Since Gemini loves to ask questions, I've come up with questions for you to consider during the next few days. Look at your rising sign first, then your Sun sign. You may want to journal out your answer (which is a very Gemini Moon activity) or perhaps meditate on them.
Aries/Aries Rising
How have my communication skills changed over the last 6 months?
Where do I need to express myself more clearly?
What has been a recent trip or journey that has offered me some clarity or insight?
Taurus/Taurus Rising
How have my feelings of self-worth changed over the last 6 months?
Where have I been spending my money the most? The least?
What objects in my life have brought me the most satisfaction over the last 6 months?
Gemini/Gemini Rising
How has my personality shifted over the last 6 months?
What aspects of my physical appearance do I wish to change?
Where have I experienced changes in how people perceive me?
Cancer/Cancer Rising
How have I been addressing old wounds over the last 6 months?
Where have I drawn boundaries or limits with others?
What situations trigger a withdrawal response in me?
Leo/Leo Rising
How have my friendships & social interactions shifted over the last 6 months?
Where do I want to see myself in the next 6 months?
What do I wish for myself and the world around me?
Virgo/Virgo Rising
How has my career changed in the last 6 months?
Where do my current ambitions lie?
What do I most want to be known for?
Libra/Libra Rising
How have my personal beliefs shifted over the last 6 months?
What are the big questions that compel me at this time?
Where do I long to go once I feel it's safe to travel?
Scorpio/Scorpio Rising
How have my intuitive abilities/gut instincts evolved over the last 6 months?
What areas of my life are ready for transformation?
Where has my personal power been centralized or challenged?
Sagittarius/Sagittarius Rising
How have my personal and professional relationships changed in the last 6 months?
Where am I my own worst enemy?
What do my conflicts with others teach me about myself?
Capricorn/Capricorn Rising
How has my health (physical, mental, emotional and spiritual) changed over the last 6 months?
Where do I find myself most drawn to being of service?
What work brings me the most personal satisfaction?
Aquarius/Aquarius Rising
How has my creative process developed or shifted over the past 6 months?
What activities bring me the most pleasure or joy?
Where do I find it easiest to express myself?
Pisces/Pisces Rising
How have my family relationships changed over the last 6 months?
Where in my home do I feel most/least comfortable?
What from my past needs further examination or study?
I hope your curiosity is satisfied during this lunar eclipse, and that you discover new ways to learn and grow as a result!