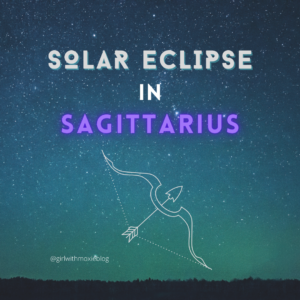 We close out the final eclipse season of 2020 with a solar eclipse in Sagittarius. This high-octane new moon ushers in big changes and new beginnings – in some cases, those changes may be quite dramatic. Where we see these changes & new beginnings depends on where the eclipse occurs in our natal chart.
In 2020, we had eclipses in Gemini and Sagittarius and in Cancer and Capricorn:
June 5, 2020 – Lunar Eclipse at 15 degrees Sagittarius
June 21, 2020 – Solar Eclipse at 0 degrees Cancer
July 5, 2020 – Lunar Eclipse at 13 degrees Capricorn
November 30, 2020 – Lunar Eclipse at 8 degrees Gemini
December 14, 2020 – Solar Eclipse at 23 degrees Sagittarius
Along the Cancer-Capricorn axis, we see themes related to building solid foundations whether at home (Cancer) or in career (Capricorn). For the Gemini-Sagittarius axis, the themes are about knowledge and how we use it: are we gathering lots of information for later study and reference (Gemini) or are we synthesizing all that we've learned to bring about change (Sagittarius)?
With this solar eclipse in Sagittarius, we're looking at the big picture and discovering the areas where we want to bring about change. We're taking all that information we've gathered since the June 5 Lunar Eclipse and piecing it together, letting the Sagittarius Moon inspire our process.
Sagittarius
Sagittarius is a mutable fire sign, meaning that it exhibits the energetic, adventurous qualities found in the fire element, but is more changeable and unpredictable. Mutable signs rule the time of year when the seasons are shifting: when the Sun is in Sagittarius in the Northern Hemisphere, it's not quite autumn anymore, but it's not quite winter, either.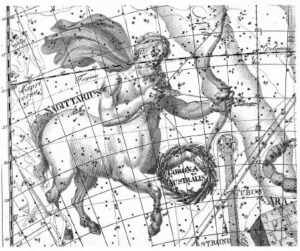 It's fitting, then, that the sign of Sagittarius is represented by the centaur: he's half-man, half-horse. His interests & skills cover everything from studying philosophy and religion to going on adventures all over the world. He's skilled in archery – hence the arrow glyph for the sign – yet also has a warm, generous side.
Ruled by Jupiter, the planet of luck and optimism, Sagittarius has a reputation of being a party sign. They dream big, think big, and play big. If you've ever known a Sagittarius, you've probably seen their expansive, gregarious nature at work. The Sagittarians I know personally are very intelligent people in search of big, deep truths – and also well-crafted cocktails.
Jeff Bridges is a Sagittarius and one of his best known roles was as The Dude in The Big Lebowski – the quintessential Sagittarian in his love of a white Russian cocktail and being at peace with everything in his life, even when things get tough.
Miley Cyrus's song "Midnight Sky" captures her own Sagittarian mindset: the desire for freedom and the need to aim high.
Moon in Sagittarius
When the Moon is in Sagittarius, it embraces a more ebullient nature: it's cheerful and optimistic, and feels best when it's going out and exploring the world. Because the Moon is influenced by the mutable energy of Sagittarius, it will adapt to whatever comes its way, but if it feels constricted or bound to routines, it will escape – whether literal or figurative.
If you have your Sun, Moon, or Rising in Gemini, Virgo, Sagittarius and Pisces, these last couple of days may have been particularly challenging, especially as many areas in the United States are enforcing new restrictions in order to stop the spread of COVID-19. But if we channel that adaptability of the Sagittarius Moon, we can find escape through studying something new (like astrology, world religions, or philosophy) or watching documentaries on topics we are passionate about: climate change, immigration reform, LGBTQ rights, dismantling systemic racism.
If you know your rising sign, here's a rundown of what aspects of your life the Solar Eclipse in Sagittarius will be affecting:
Aries Rising – personal philosophy, spirituality and beliefs; higher education
Taurus Rising – regeneration, transformation, death
Gemini Rising – relationships and partnerships (romantic, business, platonic)
Cancer Rising – work and work environment, service, health
Leo Rising – creativity & creative pursuits, children, where you find & seek pleasure
Virgo Rising – home, family life, your past, ancestors
Libra Rising – communication skills & tools for communicating with others, sibling relationships, short trips
Scorpio Rising – finances, material possessions, self-esteem
Sagittarius Rising – physical appearance, self-awareness
Capricorn Rising – subconscious thoughts & feelings, karmic debts
Aquarius Rising – friends and social groups, hopes, goals
Pisces Rising – career, fame, reputation
You can also read that list for your Sun sign, which would also be impacted, though maybe not as strongly. (Not sure about your rising sign? Visit https://chart.chaninicholas.com/ to generate your natal chart for free.)
Some questions to consider over the next couple of days:
Where do I want to see changes in my life?
What changes do I want to see in my community? What can I do to help with that process?
How have I changed over the last 6 months?
You may find it helpful to journal about these questions, or perhaps use them as a starting point for a Tarot or oracle card reading. If you are considering some ritual work during the solar eclipse, this article has some very helpful suggestions.
Here's to being open and adaptable during this solar eclipse, and to discovering how we can embrace change on personal and global levels.