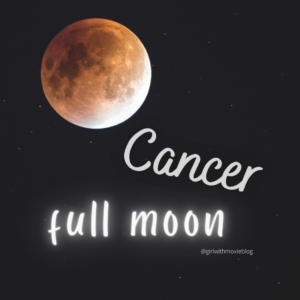 Here we are, the final Full Moon of 2020 – and I am tired. It's why I am finally writing a post about the Cancer Full Moon less than an hour before it happens. I've also been emotionally drained, which is very typical for this transit. If you found yourself in tears over the course of the last 24 hours, you are in good company. Full Moons are the culmination of effort and the closure of a cycle. For this year's final Full Moon to take place only a couple days before the end of a globally painful year, there's extra resonance and poignancy.
Because it's so late, and because I don't have the mental or emotional energy to write a long post about the Cancer Full Moon, instead I offer you some ideas and questions to consider:
What has unfolded for you over the past six months that has provided an opportunity for growth?
If you were to write a six-word description of your experience of 2020, what would that be?
What needs to be brought to a conclusion in your life before 11:59 pm on December 31, 2020?
What will you carry forward into 2021?
May the last few days of 2020 be kind and gentle to you, and may the year ahead be full of blessings.