A full moon is a perfect time to reflect upon the lessons learned since the last full moon, and what you wish to call forth for the next cycle. I developed this Full Moon Tarot Spread several years ago and use it at every full moon. This spread shines a light on the shadows of the cycle that has ended and casts its glow into what is to come.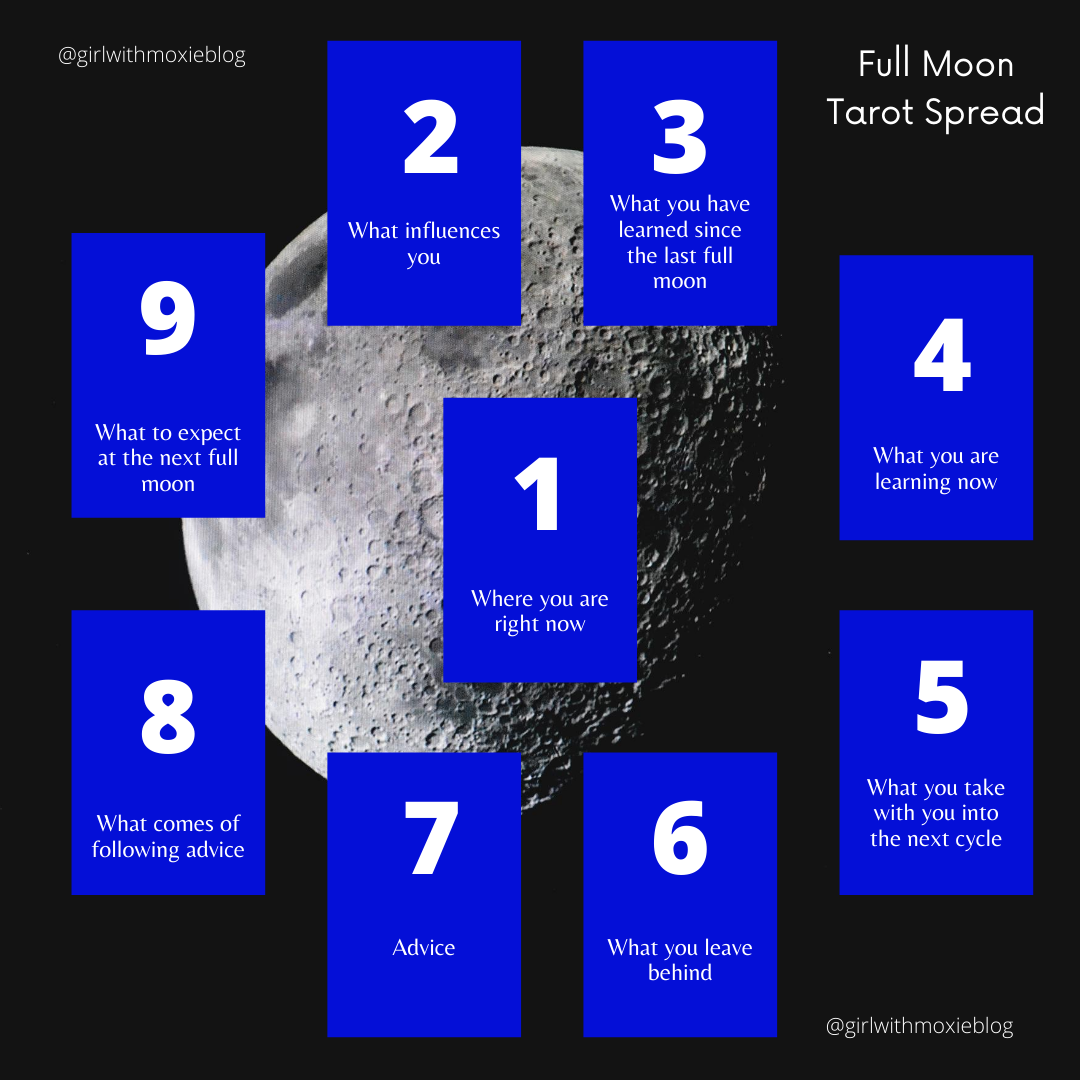 Full Moon Tarot Spread
Shuffle the cards and cut the deck as many times as you feel you need. As you shuffle, take several deep breaths and center your thoughts on yourself and your desire for deeper knowledge and foresight.
Lay out the cards in the pattern shown, or in rows of 3 cards each – whatever works easier for you.
Where you are right now
What influences you
What you have learned since the last full moon
What you are learning now
What you take with you into the next cycle
What you leave behind
Advice
What comes of following advice
What to expect at the next full moon
Tips on Making the Most of Your Reading
Write it down. I like to record my full moon readings in my journal, adding any notes or interpretations on the reading in a contrasting ink color. Before I begin the reading, I write down my current state of mind.
Take your time. Schedule a time to do your reading when you won't be disturbed. I find that my full moon readings can be done within 24-48 hours of the full moon being exact and I still get a very insightful reading.
Focus your energy. Turn off your phone, music, TV, etc. Sit silently for several minutes before you do your reading. If you do any other ritual work with moon cycles, include the reading as part of your practice.
If you found this Tarot spread useful, please consider making a donation to support the site.