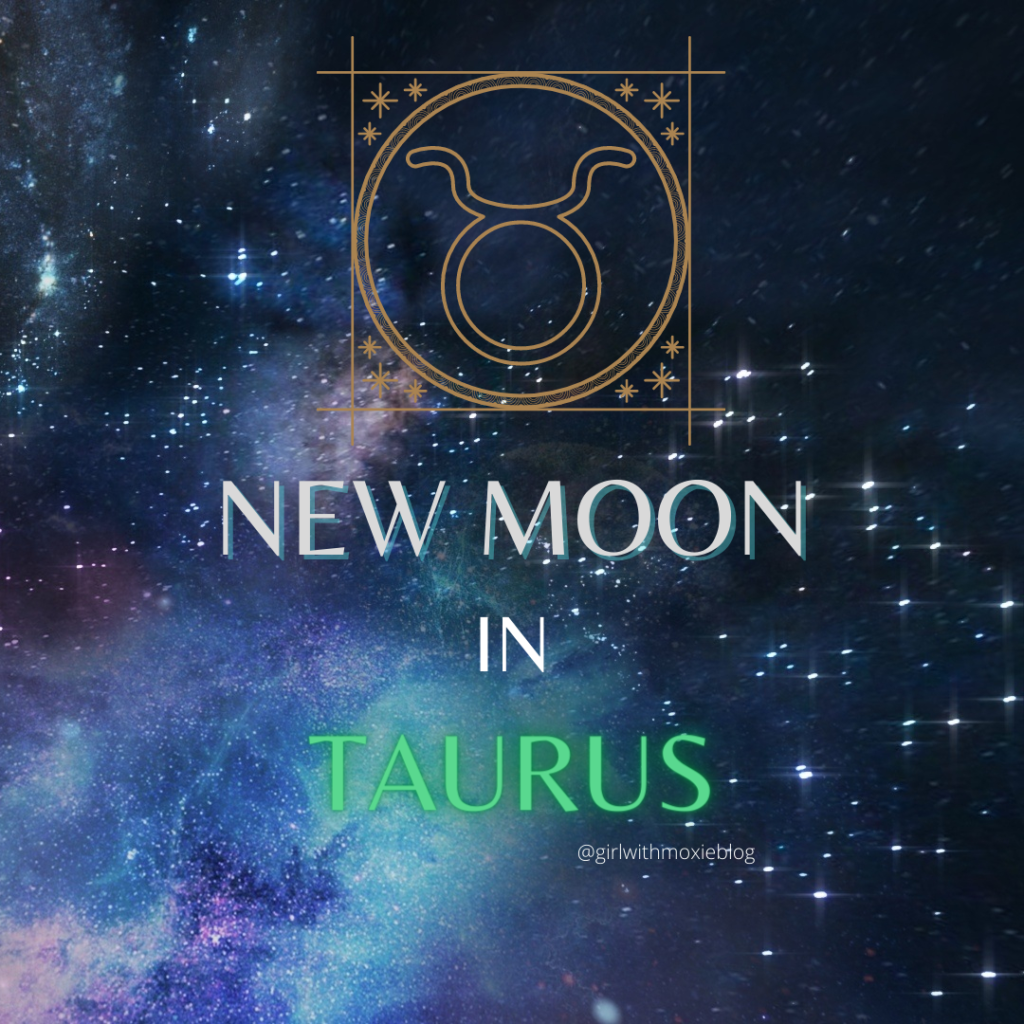 Today's New Moon in Taurus provides an opportunity for a grounded, reflective approach to how we want to experience the next six months. With several planets on the verge of retrograde cycles, plus the start of eclipse season with the coming Lunar Eclipse in Sagittarius on May 26, now is the time to work on setting intentions.
Here's the planetary lineup as of today:
Sun, Moon, and Uranus in Taurus
Mercury and Venus in Gemini
Mars in Cancer
Jupiter and Saturn in Aquarius
Neptune in Pisces
Pluto in Capricorn
The planetary scorecard:
4 planets in air signs
4 planets in earth signs
2 planets in water signs
We also need to look at modalities: with five planets in fixed signs, there's a much slower pace. No planets in fire contributes to feelings of indolence, stasis and stagnance. But the Moon in Taurus is here to remind us that sometimes the most beneficial growth and change happens over an extended period of time.
Moon in Taurus
You may remember from my November post on the Full Moon in Taurus that the Moon is exalted in this sign. Taurus, a fixed earth sign, surrounds the Moon with creature comforts. Uninterested in abstract notions of emotional fulfillment, a Taurus Moon says, "What will make you feel good right now, love? A warm bath scented with jasmine and roses? A glass of Bordeaux? How about a slice of chocolate cake?" It invites us to find emotional pleasure in connecting with sensory experiences, and reminds us that the psyche is most open to manifesting when it's well cared for.
Here's what Chani Nicholas writes about the Moon in Taurus in her book You Were Born for This:
Planets in their exaltation will tend to get attention for their ability to perform their duty. Here, the Moon is productive, giving, and generative.
With all of this in mind, a Taurus New Moon is ideal for manifesting and setting forth intentions. Even if you're not planning elaborate ritual work today, you can sit quietly and reflect on what you wish to see manifest in your life by November 2021.
New Moon in Taurus – Affirmations for the Signs
Check your Sun/rising sign for affirmations you can use as a starting point for intention setting, journaling, and meditation. I've also included areas where you may want to consider manifesting a fresh start.
Aries Sun/Rising
Areas to focus on: Values, self-worth, financial resources
I create my own security.
All my actions lead me to greater prosperity and abundance.
Taurus Sun/Rising
Areas to focus on: Physical appearance, identity, outlook on life
Being unapologetically myself is my greatest strength.
I love, respect and approve of myself.
Gemini Sun/Rising
Areas to focus on: Subconscious, limitations, connection to divine
I trust the flow and process of life.
I know that divine action is taking place right now.
Cancer Sun/Rising
Areas to focus on: Goals, friendships, social consciousness
I am appreciated by everyone in my life.
I attract people into my life who love, respect and support me.
Leo Sun/Rising
Areas to focus on: Career, reputation, ambitions
I am good at my job.
I am capable of succeeding in life.
Virgo Sun/Rising
Areas to focus on: Belief systems, life lessons, aspirations
I bring my knowledge, skills and abilities to everything I say and do.
I am open to learning more about myself and the world around me.
Libra Sun/Rising
Areas to focus on: Shared resources, instincts, regeneration
My personal transformations allow me to learn and grow.
I willingly share what I have with others.
Scorpio Sun/Rising
Areas to focus on: Partnerships of all kinds, cooperation, relationships
People are respectful, kind and good to me, and that's all I ever attract.
I am comfortable establishing and maintaining boundaries with others.
Sagittarius Sun/Rising
Areas to focus on: Health, service, routines
I am capable of creating new, positive habits and routines.
I am focused on living a healthy, happy life.
Capricorn Sun/Rising
Areas to focus on: Creativity, pleasure, self-expression
I am limitless in my creative ideas.
I express myself clearly and with love.
Aquarius Sun/Rising
Areas to focus on: Ancestral history, home, family relationships
I allow myself to release the past.
I build foundations that nurture and support me on my path.
Pisces Sun/Rising
Areas to focus on: Communication, sharing information, awareness
I have a voice that is meant to be heard.
I freely share my knowledge with others.
Not sure about your rising sign? Visit https://chart.chaninicholas.com/ to generate your natal chart for free.
Manifesting at the Taurus New Moon
I've mentioned Wayne Dyer's Meditations for Manifesting before, and once again I highly encourage using this resource as part of your New Moon manifestation ritual work. I can personally attest to seeing changes in my life as a result of working with this meditation practice.
May this Taurus New Moon provide a moment of intention setting and manifestation that will see you through the coming Mercury retrograde and eclipse season.