And now, the (not quite) 6th annual resolutions for everyone else. Because it's much more fun to tell other people what they need to do differently in the new year.
1. Eliminate the tip credit (federal and state governments)
Few things seem to irritate people more than hearing a waiter/waitress was stiffed on a tip for the craziest reasons – even if the story turns out to be questionable at best. If wait staff were being paid a living wage to begin with, the whole notion of tipping would be a non-issue. Let's put an end to this nonsense, shall we? (Read this article for more background.)
2. Keep my tongue in my mouth (Miley Cyrus)
Watch her videos and it's quickly obvious that Miley was the baby who stuck everything she found in her mouth. Girl, it's time to keep your oral fixation in the bedroom where it belongs.
3. Make an animated feature about quokkas (Disney and/or Pixar)
How did I not know about these cute little marsupials? Probably because they don't get the same PR treatment as koalas and kangaroos do. Quokkas are born ready for primetime. Look at that smile! Who wouldn't want to watch a movie about a family of quokkas out on an adventure? Kevin James and Melissa McCarthy could do the voices. Let's do this, Disney! Or Pixar! Or both of you! I don't care but I want quokkas!
4. Obey traffic signals and signs (NorCal drivers)
When did red become the new green? It seems in the last few months I'm seeing more and more drivers blow through blatantly red lights, and I'm not sure what happened in the universe that these folks decided it didn't matter. I pray this isn't because they are so busy texting while driving that they can't be bothered with the rules of the road.
5. Chill the f**k out (Kanye West)
Spend more time being a loving, devoted father to your daughter and less time picking fights with late night talk show hosts, online shopping sites, and pretty much anyone and everyone who doesn't think you're the greatest thing since the return of the Twinkie.
6. Include discussions of respect and consent in sex education (teachers, parents)
The Interwebs has been blowing up this year with stories of acquaintance rape and rape gangs and all sorts of righteous indignation over how rape culture makes this possible. I'm exhausted by all the yammering – not that it's not important to bring up these issues, but I'm way more interested in finding solutions. How about we focus on teaching kids from a young age to respect their bodies? Teach them what true consent looks and sounds like? And most importantly, let's teach them that sexual intimacy is something to be valued, not used as a bargaining chip.
7. Apologize to fans for all the expensive handbags on my sitcom (Mindy Kaling)
Y'all have seen my previous posts about Mindy and her love of the Hermès Birkin, and how the third Birkin sighting was enough for me to stop watching her show. Yes, I'm that petty and ridiculous sometimes. She's been spotted out and about with her very own Birkin, so I hope that means her handbag needs are being met to the extent that she no longer needs to jump the expensive-purse-carrying shark on her show.
8. Stop pawing at the lampshade at early o'clock (Rooney)
He already broke one lampshade, and he seems hell bent on breaking the other one. Sometimes I question why I have cats in my life.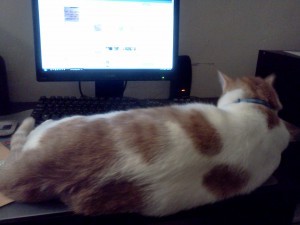 9. Fix API so third-party app users can tag Pages when scheduling tweets (Facebook)
If you're not a HootSuite user, or someone who uses a third-party application for posting to Facebook, then this resolution will mean nothing to you. But for those of us who use HootSuite or another service to write & schedule posts/tweets across all our social media accounts, not being able to tag Facebook Pages is frustrating, because then it means we have to go into Facebook and write & schedule posts there, which means we can't track our analytics in one place. Yeah, I just geeked out there for a second.
10. Continue making awesome original content (Hulu)
I didn't have access to a TV for the last few months, which meant I streamed all my content online, and when I ran out of network programming I began watching Hulu originals. They are curating some fantastic content over there: The Awesomes, The Booth at the End, Behind the Mask and The Wrong Mans are all fun to watch, well crafted, and just an all-around enjoyable experience. Keep it up, Hulu. But please, no more Botox ads, okay?
Now it's your turn. What are your resolutions for everyone else?