On Saturday night I found myself in Ms. Chick's bedroom.
Wait. That didn't come out right.
See, she's been having a dry spell with dating, and I wanted to see if I could help her out.
That still didn't come out right. Or my mind is just constantly in the gutter.
Some background: several years ago, T-Wizzle turned me on to feng shui, the Chinese art of living in harmony with your environment. She had met and worked with Karen Rauch Carter, author of Move Your Stuff, Change Your Life, a practical, easy-to-use feng shui guide for people who don't want to be bothered remembering a lot of details about what belongs where. I bought a copy of the book, figured out how the bagua aligned with my current apartment, and started moving my crap around. I had been having serious issues in different areas of my life and wanted to do something physical that might help change things.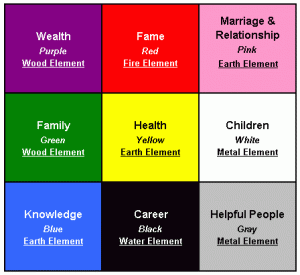 And my life did change. I started dating, my relationships with family members improved, I made some great new friends. I found a new home for Angel, my cat who was aggressive and miserable living with me and my other cat, Mossimo. I bought a new car that I absolutely loved. I gave feng shui a lot of credit.
But the truth is, I had been feng shui-ing my head as well. I had started using affirmations and other techniques to help reset my brain to stop being so negative and cynical and nasty and being more open and compassionate and fun. And it made a huge difference. Because I've learned that there's no way changes can take place in the real world until you change the way you think about the things that bother you.
I can't sum up everything I did to feng shui my head in one blog post. But here are my basic suggestions:
Write down on a piece of paper what's not working in your life. I have an old list that reads: "My love life is nonexistent. My new friendships are not as nurturing as I would like. I don't feel motivated to write or be creative."
Write down on another piece of paper what IS working. Love your job? Have a great bunch of friends? Car running beautifully? Write 'em down.
Go back to the first piece of paper and consider what attitudes are behind those not-working items. The key is to make sure you stay focused on yourself. For me, my love life was nonexistent because deep down I believed I was unattractive and undesirable because I am fat. It had nothing to do with the men I was interested in or had dated in the past. It was all about me.
Install mental updates. Your internal self-esteem software obviously needs a bug fix, so it's time to fix that. Write some affirmations about your inner and outer beauty, make peace with your inner child, get a close friend to help you work out your shit. I spent a lot of hours on the phone with T-Wizzle working out my shit – and in turn I helped her work out her own.
While you're working on these affirmations and feeling super positive about yourself, start moving stuff around in your home. Carter's book is a great starting point. Some folks may need a professional consult, which can be expensive but if you have the money it's well worth it.
Back to Ms. Chick and her bedroom. She had an empty laundry basket in the Love & Relationships section. I pointed at it and said, "That needs to go, unless you want to continue having nothing happen with your lovelife." (If it had been full of dirty laundry I still would have said she needed to move it, because then she'd be dealing with – you guessed it – guys with a lot of dirty laundry.) She moved the basket and according to a tweet I got from her tonight, things have already started shifting. But I'm willing to bet she started shifting her attitude about dating, too.