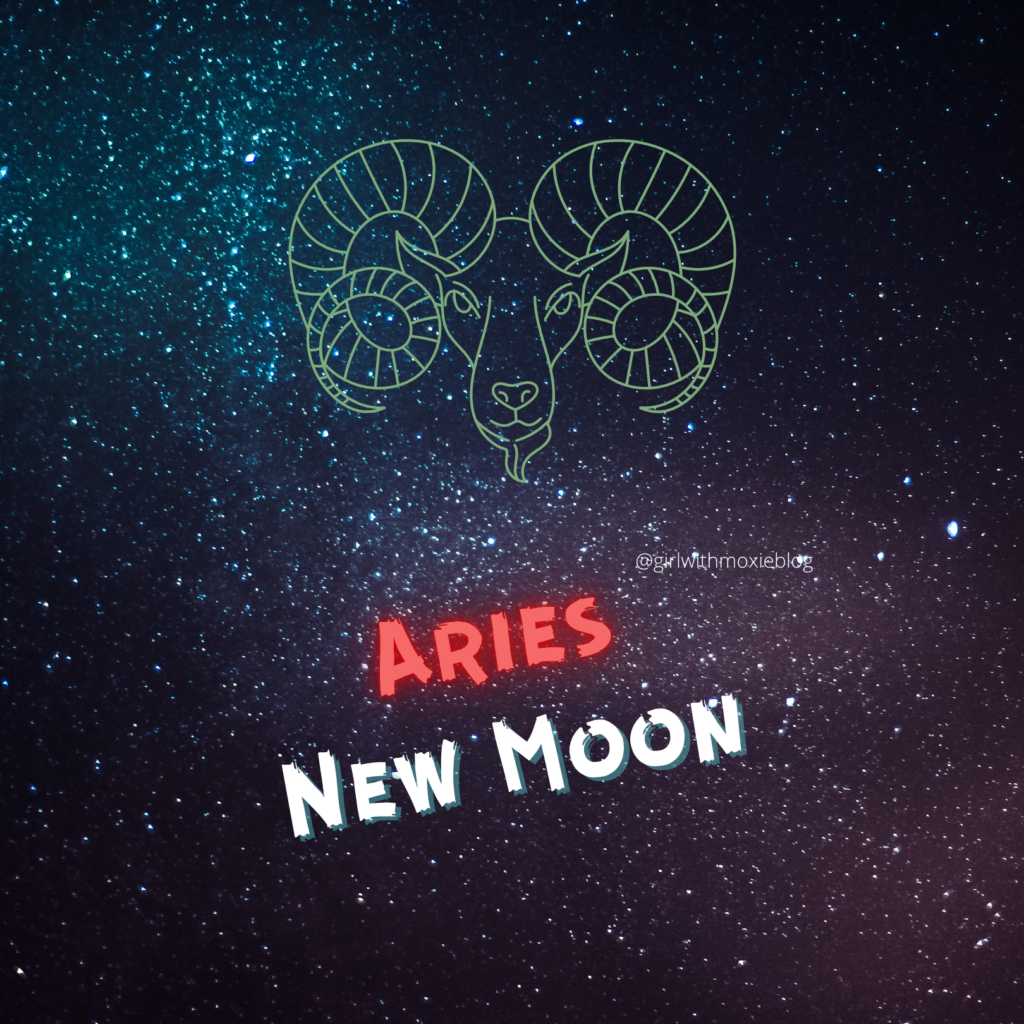 Who's felt fired up over the last 24 hours? Just me? I didn't think so. The New Moon in Aries is the spark we need to start something new – and what gets started depends on what we most want to manifest over the next 6 months.
Before I talk about today's Aries New Moon, let's take a quick look at where the planets are this weekend.
Sun, Moon, Mercury and Venus in Aries
Mars in Gemini
Jupiter and Saturn in Aquarius
Uranus in Taurus
Neptune in Pisces
Pluto in Capricorn
If you're keeping score, that's 4 planets in fire signs, 3 planets in air signs, 1 planet in water sign and 2 planets in earth signs.* Can this contribute to the burst of energy we may be experiencing? Absolutely. When planets are in fire signs (Aries, Leo and Sagittarius), they take on more assertive, dynamic traits. We see independent action and a tendency to make impulsive, spur-of-the-moment decisions. With Aries, that's frequently the case. Ruled by Mars, Aries embodies courageousness and is ready to take charge of any situation. Aries' motto is I AM.
Moon in Aries
If we associate the signs of the zodiac with human life stages, Aries is the infant of the chart: its needs and desires are self-centered and it hasn't yet learned how to relate to others in a way that is mindful of other people's needs. Babies don't hesitate to let their caretakers know when they need attention, whether they are hungry, tired or need a new diaper. When someone is born with the Moon in Aries, every feeling may be treated like it's an emergency that must be addressed immediately. Once that feeling is expressed, the Aries Moon person moves on.
When the Moon is in Aries, we all may experience a taste of this energy. Our emotional response is quick and incisive. Tempers may flare easily, but burn out just as fast. An Aries Moon encourages us to embrace and express our feelings when we feel them, whether that's happiness, frustration, sadness, or passion. While that might seem overwhelming to those of us with our natal Moon in air or earth signs, which can lean toward more reserved, thoughtful (and possibly overintellectualized) emotional expression, there's something to be learned from an Aries Moon: "Get the feelings out and let them go, because feelings are like buses – there's always a new one coming down the road!"
New Moon in Aries for the Signs
Check your Sun/rising sign for questions to reflect on for today's New Moon in Aries, and where you may want to consider setting intentions for the next 6 month cycle.
Aries Sun/Rising
What's your outlook on life these days? How does your physical activity impact how you feel?
Taurus Sun/Rising
What hidden feelings need to be brought to the surface and addressed, then released? How can you make this process happen?
Gemini Sun/Rising
What hopes, goals and dreams feel the most important to you lately? How can your social circle help you manifest your goals?
Cancer Sun/Rising
What feelings come up when you think about your career? How does your current career path support or detract from what you most want to be known for?
Leo Sun/Rising
How does your personal belief system make you feel about yourself and the world around you? What areas of knowledge excite and inspire you to learn more?
Virgo Sun/Rising
What in your life is ready for release? How can you transmute any negative feelings into more positive ones?
Libra Sun/Rising
How do your close relationships provide emotional support when you need it? What feelings need to be addressed in your relationships?
Scorpio Sun/Rising
What can you do to create more positive feelings in your work environment? How does your physical health affect your ability to do your work effectively?
Sagittarius Sun/Rising
What activities give you the most pleasure? How do your creative projects support or discourage you from expressing your feelings?
Capricorn Sun/Rising
How does your home environment make you feel? What actions can you take to encourage healthy, positive feelings with your family?
Aquarius Sun/Rising
How are you communicating your feelings, whether it's to yourself or to others? What can you do to communicate more openly?
Pisces Sun/Rising
How do you currently feel about yourself? How do you feel about your financial situation? What can you do to help support healthy, positive feelings about your self-worth?
Not sure about your rising sign? Visit https://chart.chaninicholas.com/ to generate your natal chart for free.
Manifesting at the Aries New Moon
I highly recommend using Wayne Dyer's Meditations for Manifesting as part of your Aries New Moon manifestation ritual work. It's a very powerful resource and I can personally attest to seeing changes in my life as a result of working with this meditation practice.
May this Aries New Moon bring you renewed focus and energy for the months ahead!
*We could also count Chiron in Aries and the North Node in Gemini, but we'll focus on planets to keep things simple.