If you missed Part 1 of this series, click here.
Now let's move on to the ugly stuff of Gilmore Girls: the plot points, characters and situations that added nothing of value to the show, were a complete departure from how the writers had originally depicted the character(s), or general commentary on stuff that wasn't working for me. Plus, a bonus look at Rory's boyfriends!
The Ugly
April Nardini, Luke's long-lost daughter. April makes her first appearance in S6:Ep 9, when she approaches him for a DNA sample for a science project. (We'll ignore the question of why any junior high science teacher, fictional or real, would allow a kid to go all Maury Povich for a science fair project.) If there ever was a cousin Oliver character that should have been eliminated, it was April. Her presence relegated Luke to becoming a caricature of himself. If the showrunners didn't want him and Lorelai together, they could have found a better way.
Jackson Belleville and the Case of the Invisible Vasectomy
There are so many problems with this subplot that kicked off in S5, Ep 21. First off, where is this magical universe in which a tired wife and mother is allowed to schedule a vasectomy for her husband without his knowledge and consent? Cause I know a lot of women who would like to live there. Secondly, dedicated viewers of GG know about Jackson's "four in four" wish/demand (meaning four kids in 4 years), and the non-conversation he and Sookie had about children. Why didn't the writers address this as a point of contention early on? I've read that Sookie's surprise third pregnancy was more about accommodating Melissa McCarthy's real-life pregnancy, but surely the producers and writers would have known about this early enough to create more of a real-world plot in which the couple realizes how different they are when it comes to family size, child rearing, etc., they briefly separate, come back together (with at least one scene involving Lorelai and Sookie talking intimately about her marriage, of course), and decide to have baby #3.
Luke's sister Liz, her husband T.J., and new baby were pointless and annoying. Were they supposed to be comic relief? An annoyance to distract from the craptastic plot lines going on? I think I just answered my own question. You win, showrunners.
Lane's wedding and subsequent pregnancy with twins. Huh? This seems like the most unfair of all the subplots, because it flies in the face of Lane's rebellious streak. C'mon, Helen Pai, I'm sure you knew plenty of Adventist girls who secretly went on the pill and had premarital sex. I know I did. If she'd had premarital sex with Zach, I bet she would not have married that idiot.
Plot issues starting in S5 through S7. Before I began watching GG, I read a lot about how awful S7 was, and how many fans feel they are owed a do-over because S7 was so awful. Now that I've binged on the series and done some research, here's my hypothesis: the plot lines, especially related to secondary characters, were the problem beginning with S5. Amy Sherman-Palladino is pretty outspoken when it comes to the issues she had with network brass about her future with GG during S6. I suspect her relationship with the network started going bad during S5. I can't prove that she and her husband, co-producer Daniel Palladino, ruled with an iron fist when it came to secondary character arcs, but considering how cohesive the show was up until the whole Jackson vasectomy incident suggests to me that they were distracted by dealing with the suits to be paying much attention to the little details. When I looked at S7 writers on IMDB, there was at least one long-time GG writer, Rebecca Rand Kirschner, who continued writing episodes, and Sherman-Palladino said it herself:
We left it in the hands of our writers. We had smart and strong writers who had trained with us, so we felt like if we can't be there, it's at least in the hands of people that we know are going to honor the spirit of the world that we set up. – Amy Sherman-Palladino, ET Online
With all of this in mind, I suggest that the shark was jumped starting with S5, Ep 21, thanks to the Sookie/Jackson vasectomy subplot. Some may suggest that any shark-jumping started with S4, Ep 22, when Rory lost her virginity to an unhappily married Dean, and while that was pretty awful, Rory often put herself in the role of "bad girlfriend" with him, so it only fits that she would do it again by being the other woman.
Lastly, I'm just gonna say it: Alexis Bledel is not a good actor. She is beautiful to look at, but she cannot act.
The Many Loves of Rory Gilmore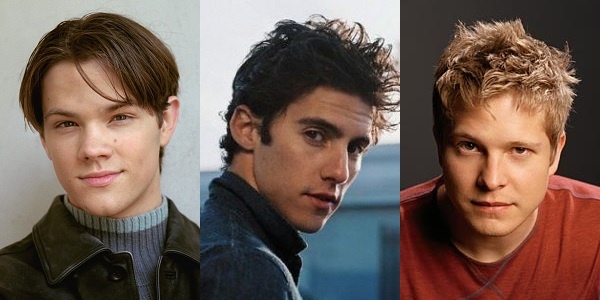 I can't write a blog post about Gilmore Girls without weighing in on Rory's boyfriends. That would be sacrilege.
Dean Forester (Jared Padalecki)
Dean was a sweet guy, and the ideal first boyfriend for Rory in many ways, but a hot mess in the end. For Dean to be Rory's first sexual experience while he was still married was perhaps inevitable, as Rory always seemed to see herself as being unworthy of him and his devotion when they were dating. As the sad sack of a young husband working too hard, Dean's finally at a level where Rory doesn't feel "less than" (she is a Yale undergrad, after all).
Jess Mariano (Milo Ventimiglia)
Jess was a hot mess all around, but a good match for Rory in that he pushed her to try harder, do better. Smart girls like bad boys, and if they are reasonably well read and know about obscure pop culture stuff? OH YEAH. Do not ask me how I know this.
If Rory had lost her virginity to Jess, GG would have been a completely different show – but would it have been better for it? Maybe. I think it would have actually grounded Rory in the reality of relationships in a way that being with Dean and Logan never did, and that her mother could never get across. But because having Jess as her first lover would have added a level of gravitas that GG was not about to embrace – it's a dramedy that wants to stay lighthearted and fun, after all – it could never happen.
Logan Huntzberger (Matt Czuchry)
Ahh, Logan: he's charming, cute, yet a hot mess. He's Rory's match in that he understands the "poor little rich kid" scene in a way that Dean and Jess never could. Logan reflects the worst of Lorelai and Christopher in his own reluctance to grow up, and while he makes some strides by not exactly following in father Mitch Huntzberger's footsteps, he's still tied up in family money, because that's all he knows.
Next week, Part 3: the Good, including the scene that made me appreciate GG despite all its flaws, and what I hope to see in the Netflix revival.