Regular readers of GWM will be familiar with this tradition: I share 10 resolutions for people, organizations, etc. other than myself. This year, I've incorporated some video clips to better illustrate my resolutions.
1. Stop abbreviating words just to be clever (Millennials). I'm blaming them, but it may not be completely their fault that the media is now saturated with obvi, totes, ack…you get the idea. Do you have a problem with letters? No? Then spell the whole damn word!
2. Make adult bibs socially acceptable (American society).
3. Drop the "vanilla diamond" marketing strategy (LeVian). The chocolate diamonds are bad enough, but now this company has begun calling traditional white diamonds "vanilla." The first time I saw one of their ads with this crap, I started yelling at the screen because it's complete bullshit. My bestie Deena, who's worked in the jewelry business for over 20 years, agrees. Not only does the emperor have new clothes, he also has a fabulous new vanilla diamond ring!
4. Stop expecting to be validated on social media for all of my opinions (social media users). I'm guilty of this, too, but I gotta say I'm tired of doing this and I'm tired of seeing others do it as well. When we put our opinions out there for all the world to see (or, at the very least, our friends and friends of friends), there is bound to be someone who disagrees. Worst case scenario, no one even notices. In either instance, social media isn't a megaphone or bullhorn that's guaranteed to get you interaction, especially of a positive, validating nature. If you understand this, then share on. If not, then maybe it's time to rethink your communication strategies.
5. Make pencil eraser caps that fit without tearing (office supply manufacturers). 
6. Contract a musician to create new hold music (IRS). Every time I've had to call the IRS over the last few years, they have had the same hold music. I'm not making that up; this guy has noticed it, too. Surely the IRS can afford to pay someone to create new music, or perhaps Pandora or Spotify would be cheaper. Either way, this music needs to go.
7. Use headphones with my electronic devices when in public places (everyone). You know this person: they are blasting their music or a video  from their smartphone, tablet or computer so loud that it flashes you back to the ghetto blasters and boom boxes of the 80s. That is a flashback I don't need, nor does anyone else. Headphones are cheap. Get a pair, get two. Hell, get three. THEN USE THEM.
8. Bring back the clean shaven look (bearded dudes).
So many hipsters…so many beards. I'm tired of it because as Great Grandma A would say, "why did you have to go and disfigure your face?" I can't see YOU. All I see is scraggly hair covering half your mug. Unless you've got a terrible skin condition or you wear a beard for religious reasons, it's time to shave and show the world your face.
9. Continue developing shows that showcase diversity in casting and subject matter (Hollywood). It's great to see so much diversity on TV shows, whether it's from a major network or a streaming service. A few examples include Master of None, Transparent, Orange is the New Black, Fresh off the Boat, Black-ish, and Telenovela. When made by producers, directors and writers who are part of the cultures represented, these shows take the stereotypes and demonstrate if and when they are applicable, but also illustrate the commonalities with the average white American. In the coming year, I hope to see shows featuring people with disabilities, Middle Easterners, Eastern Europeans and folks from former Soviet bloc countries.
10. Choose love (everyone). A couple months ago, I had a dream in which I was in a room full of people. I stood up in front of them and said, "I figured it out! It's so simple. Choose love." When I woke up, I was in the best mood all day, because it's true: we always have a choice in what we are going to say or do. There have been so many instances this past year in which individuals, from political candidates to photographers, police departments to passengers on a train, have made that choice in a public forum. Sometimes that choice shows fear and engenders divisiveness, anger and hate. But sometimes that choice sheds light on the brightest, best parts of humanity. When we choose love, we shine a light that only keeps growing warmer and brighter, eliminating the darkest places all over the world.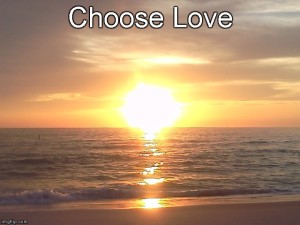 What are your resolutions for everyone else in 2016?