Holy cannoli, it's the end of 2010 already? That can only mean one thing: it's time to pop the cork and enjoy a glass of something bubbly while reading my 2011 resolutions for everyone else. I'll be sitting here, sipping my Prosecco, while you read.
1. Refuse to take low paying writing gigs. (writers)
It pisses me off to see job postings where the employer, usually a blog or web portal, is paying $5 for a 500-word article and then have the audacity to expect 25-35 posts of that length per week. No wonder we have so much crap all over the Internet, because if you pay me one cent per word there is no way you're going to get New Yorker-quality writing from me. If you want to make it as a writer and be truly challenged, stop taking piddly-ass assignments. And for the established writers who know good writing, don't you dare let me catch you doing this.
2. Stop telling my GPS system how to do its job. (anyone who gets in my car)
Ever since I got a Garmin GPS for my birthday this year, I have had to deal with riders who argue with the navigator or who want to tell me, "Oh, I'll tell you how to get there." Inevitably they make the drive more difficult than if they had just let the GPS do its job. I bought the GPS for two reasons: a) I like cool gadgets; and b)I don't have to listen to someone argue with me about the best route to take. If you don't like GPS systems THEN DRIVE YOUR OWN DAMN CAR.
3. Shop more often at local, independently owned stores. (everyone)
Yes, there are great deals to be had at big-box stores. But the little guys really need our help right now. The 3/50 Project has an excellent solution: spend $50 a month at 3 locally owned, independent businesses. In the grand scheme of things, $50 isn't that much – you were going to buy that book or shampoo anyway, right? So why not at a local shop? And if you're looking for something truly unusual and fun to give as a gift, shopping in a neighborhood with several quirky little boutiques is the way to go.
4. Learn the rules of the road and follow them. (California bicycle riders)
This summer I lived in Davis, the City of Bikes, and I saw many bike riders who were very good about using hand signals (not the one where you use one finger), putting lights on their bikes when riding at night, and being respectful of cars and pedestrians. However, I also saw many bike riders who were arrogant little brats, nearly mowing me down on sidewalks (Side note: Get off the sidewalk, asshole! It's a sideWALK, not a sideRIDE!) and ignoring stop signs and traffic lights. As soon as you put your body on top of a wheeled contraption you became a car, so behave like one. And if you aren't sure of the rules of the road for bicycles, go study them.
5. Stop when I see a pedestrian in the crosswalk. (California drivers)
I have seen so many people plow through intersections, not even bothering to look and see if anyone is crossing the street or just beginning to cross. I have yelled curses and insults at them, but of course they can't hear me because they are driving 45 miles an hour through a 30 zone. Having seen a pedestrian get hit by a car, I try to be particularly careful when driving through areas with a lot of foot traffic. Slow down, Speed Racer, and save your road rage for the freeway. Oh, and pedestrians, you're not helping when you wave a car through. You're in the crosswalk, so WALK, dammit. It's called having the right of way.
6. Install an automated postal service center. (US Post Office on Broadway in Sacramento)
I love the automated postal service centers because they make life so much easier when I need to mail out packages and I can use the machine even if the counter is closed. Sadly my favorite local post office doesn't have one of these machines. Please put one in, Mr. Postman! I promise I will still come to see you at the counter and crack my usual stupid jokes!
7. Hire a maid and a personal assistant. (T-Wizzle)
T-Wizzle is a brilliant woman and also extremely busy. For the last year she has been complaining about how hard it is to keep up with everything she needs to do and still have a clean house. I have repeatedly told her to hire a housekeeper but for some unknown reason she still hasn't done it. Same with the personal assistant. So I am now resorting to calling her out on the blog in the hope she will finally hire someone and give herself a much needed break from the anxiety and frustration that comes from not having her home looking the way she wants, or from feeling overwhelmed by to-do lists.
8. Stop bothering Jesus. (Ippie the Tech Wizard Kitten)
This resolution is best explained with visual aids.
This is Jesus.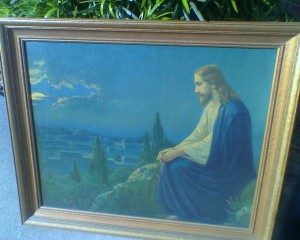 This is Ippie the Tech Wizard Kitten.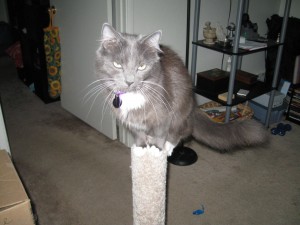 See the shelving unit behind Ippie? It's currently sitting underneath where the Jesus painting is hanging in my bedroom. When Ippie is feeling rambunctious – which is damn near all the time because she is a young cat with delusions of being a monkey – she will jump onto the top shelf. When she's feeling particularly feisty, she reaches up and starts batting at Jesus with her paws. My neighbors must be very puzzled by my shouts of "Leave Jesus alone!" and "Stop messing with Jesus!" They may even be tickled by my cries of "You can look at Jesus but you CANNOT TOUCH HIM!" I get that people would touch Jesus' robes to be healed of their leprosy and whatnot, but this is ridiculous.
9. Cut my toenails inside my apartment. (my next door neighbor)
Twice now I have overheard this strange metallic click-click-click coming from outside my door. The first time I looked out the window to see my neighbor sitting at the top of the stairs, clipping his toenails. I was grossed out. On Christmas Eve, I heard the sound again. What is wrong with you, dude? Is your bathroom not good enough for your precious toenail clippings? And even more disgusting, it's been over two months since I last heard you clip them – unless you took advantage of the stairs at the building across the street, that's poor hygiene, man. Just really, really poor hygiene.
10. Put my shopping cart in the cart corral in the parking lot, or make sure it's out of the way of other cars. (shoppers everywhere)
Few things annoy me more than finding a parking space and pulling in about 3/4 of the way, only to discover that some moron has left their empty shopping cart right at the front of the space. Actually, here's what annoys me more: people who were obviously parked right next to the cart corral, or two spaces down, and they couldn't be bothered to push their empty cart into the corral. Some businesses have opted not to have these cart corrals in the lots, so I can understand some of the stranded carts. But could you at least move the cart away so it's not hitting my car? Or anyone else's, for that matter?
What are your resolutions for other people for 2011?