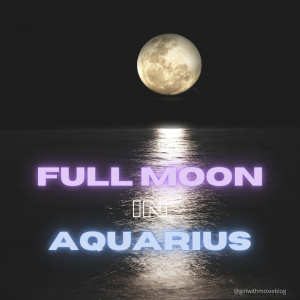 Today there is a Full Moon in Aquarius, but what does that mean? Here on Earth, when we look up at the full moon, it appears to be shining brightly because of where the Moon is positioned in relationship to the Sun and the Earth. A full moon marks the end of a cycle. The zodiac sign where the full moon occurs provides insight into the aspects of life illuminated by that bright full moon. After a period of living in the shadows, those aspects have gradually moved into the light.
Moon in Aquarius
When the Moon is in Aquarius, there can be emotional objectivity and detachment. The Moon wants to explore feelings and emotions, which requires a deep dive into our experiences, beliefs and attitudes and how we feel about them. Aquarius is focused on truth and objectivity, which requires ascending into the heavens to see humanity from a global perspective. At first glance, a student of astrology might think the Moon in Aquarius is a frosty, emotionally detached placement.
However, if we keep in mind that everyone has feelings, but has different ways of showing and managing those feelings, then it's a little easier to understand how the Moon's focus on emotional response can extract Aquarius's desire for truth. For example, the Moon may ask Aquarius, "How do you REALLY feel about injustice?" and Aquarius replies with "I am AGAINST it!" The Moon encourages Aquarius to show those feelings in the ways Aquarius feels most comfortable. The Moon says to Aquarius, "show, don't tell."
The ways an Aquarius Moon could show its feelings include:
writing a letter to local officials about an issue in the community
signing and circulating petitions
advocating for justice & equality through participating in demonstrations and protests
educating others through sharing articles & resources
Full Moon Tarot Spread
A full moon is a perfect time to reflect upon the lessons learned since the last full moon, and what you wish to call forth for the next cycle. I developed this Full Moon Tarot Spread several years ago and use it at every full moon. This spread shines a light on the shadows of the cycle that has ended and casts its glow into what is to come.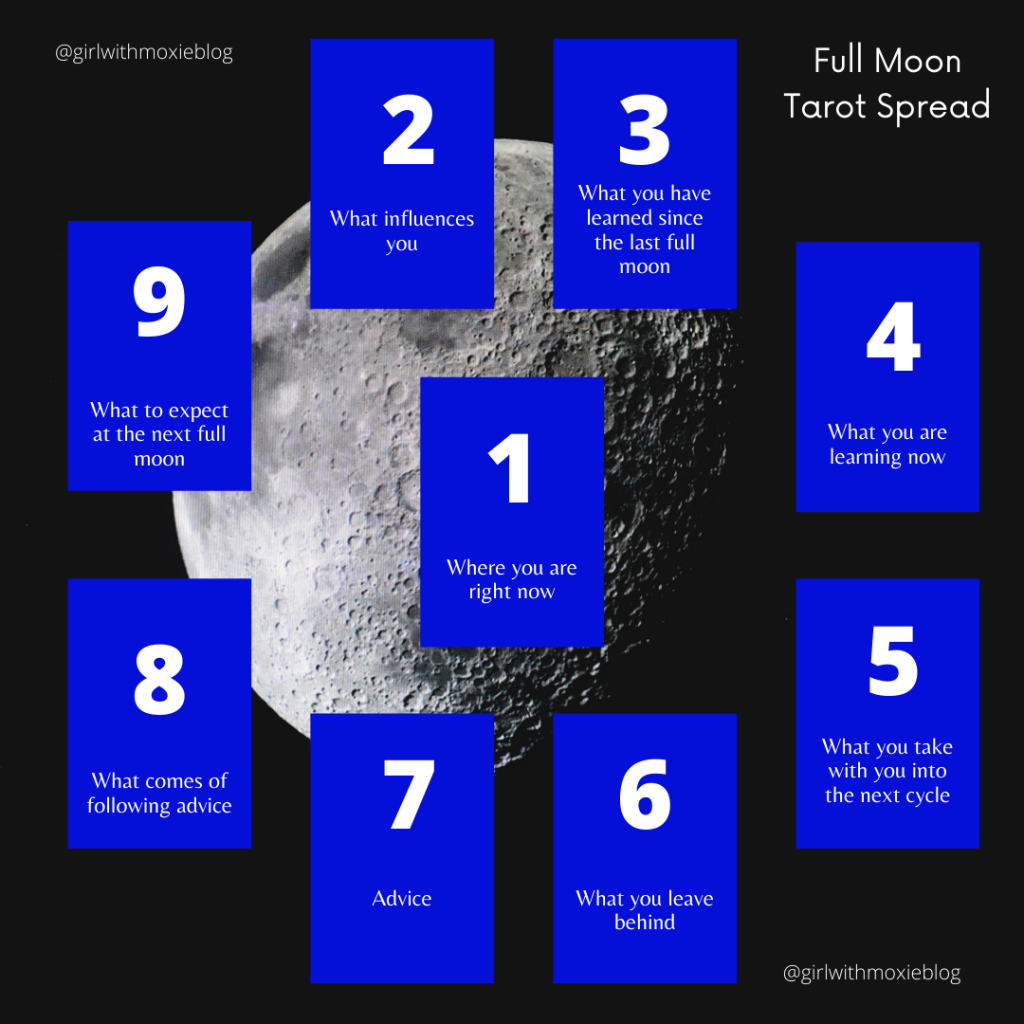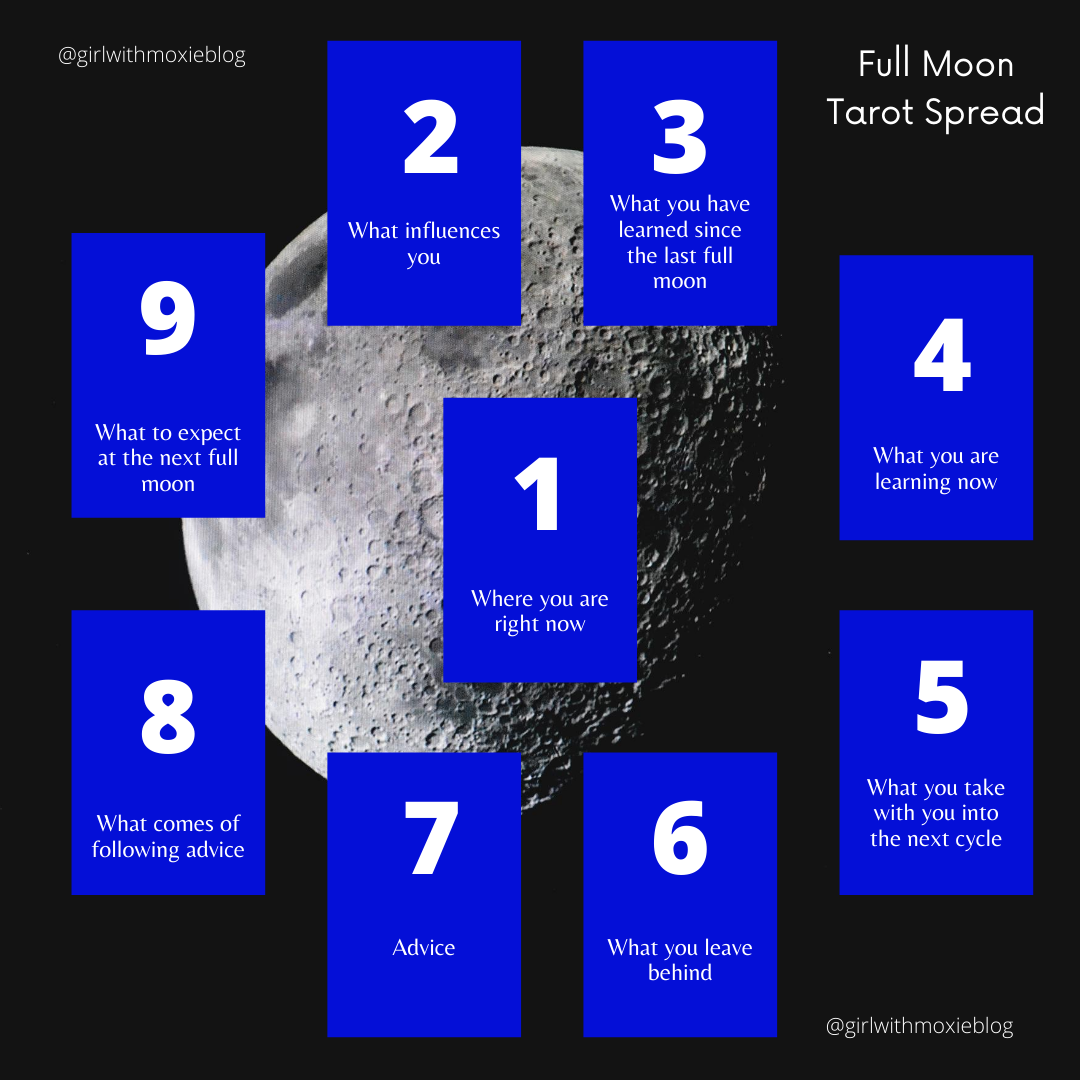 Full Moon Tarot Spread
Shuffle the cards and cut the deck as many times as you feel you need. As you shuffle, take several deep breaths and center your thoughts on yourself and your desire for deeper knowledge and foresight.
Lay out the cards in the pattern shown, or in rows of 3 cards each – whatever works easier for you.
Where you are right now
What influences you
What you have learned since the last full moon
What you are learning now
What you take with you into the next cycle
What you leave behind
Advice
What comes of following advice
What to expect at the next full moon
Tips on Making the Most of Your Reading
Write it down. I like to record my full moon readings in my journal, adding any notes or interpretations on the reading in a contrasting ink color. Before I begin the reading, I write down my current state of mind.
Take your time. Schedule a time to do your reading when you won't be disturbed. I find that my full moon readings can be done within 24-48 hours of the full moon being exact and I still get a very insightful reading.
Focus your energy. Turn off your phone, music, TV, etc. Sit silently for several minutes before you do your reading. If you do any other ritual work with moon cycles, include the reading as part of your practice.