Today marks the 40th anniversary of the Rubik's Cube, the six-sided, three-dimensional puzzle that was the bane of many a Generation X'er back in the 80s. It got me thinking about all the games I grew up with and the role they played (no pun intended) in my childhood.
My family loved games – the old school kind that involved tiny plastic or metal pieces, rainbow-hued paper money, and coated cardboard playing areas. Our den closet was the main storage area for our game collection; it was where you could find Battleship, Monopoly, Sorry, Risk, Clue, Benji (which was an awesome game). On a shelf by the stereo in the living room, there were two clear plastic storage boxes where we kept travel games, card games and 3-D puzzles.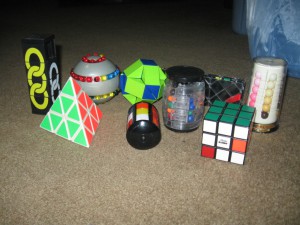 Because I was an only child, I had to either convince Momcat to play games with me, wait until the weekend so Momcat, Pops and I could play a game together, or find a friend to play. Deena loved games, too, so we played many of them together. Inner Circle was one of my favorites, as was one that had plastic square pieces with rotating numbers that would change as you moved around the board (anyone remember the name of this game?). But our favorite was the Mad Magazine game.
A few years ago I gave the game to Deena, who was so excited as she'd lost her version. We played and she beat me, and we had a great time, but it wasn't as fun as when we sat in my carport on a warm spring day, avoiding the oil spots, putting the "this card can only be played on Friday" underneath the board when we played the game on a Friday.
Two summers ago I found a good home for many of our board games with my friend Kirsten and her family – I heard her husband was even more excited than her kids about the games. Deena ended up buying several of the old 3-D puzzles from me, too. But that Rubik's Cube? It's staying with me, even if I'll never be able to solve it.
What were your favorite games from your childhood?