A few weeks ago I got an email from Margaret over at Nanny Goats in Panties inviting me to a special wine tasting/educational event at Story Winery over in Amador County. I went for two reasons: 1. it was free; 2. it involved wine. I'm simple like that.
About a week before the event she sent out another email to say we needed to wear farm-friendly shoes. I found this particularly amusing, since when I think of wineries I think of Lucy and Ethel in a giant vat stomping on grapes with their bare feet. Surely going barefoot would be considered farm-friendly, right? I presented this to Giles, who is much more astute than I am about these matters.
"They said 'farm friendly' because they didn't want to use the R word," he said.
"R word? What's that? Riesling?"
"No, rattlesnake." Guess I'll be wearing sneakers, then.
Ms. Chick from Limit Reached carpooled with me over to Amador County, which is a little less than an hour from downtown Sacramento. We gossiped and chatted and made derogatory comments about other drivers. Nothing makes a trip go by faster than making derogatory comments about mobile home drivers who are oblivious to the chain of cars behind them.
When we got there, we missed the sign that pointed us to where we would be getting educated about wine. Instead we walked over to the tasting room area and got to try two wines: a 2010 Miss Rose and a 2009 Chenin Blanc, both of which were very light and lovely. Then with the help of the tasting guy and another staffer, we figured out we needed to go back down to where the wine is made.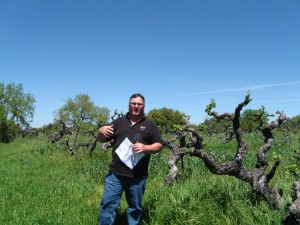 Story Wine's director of marketing, Cinde, and the assistant winemaker Brian, were our instructors. Winery owners Bruce & Jan were also there to tell us about how they got involved with the winery, how the vineyard is maintained (they do dry farming, which means no irrigation), and how they are going organic. Pro tip: if you drive by a vineyard and you can see that there's all sorts of weeds and plants growing between the rows, there's a very distinct possibility that the grapes are certified organic or in the process of becoming certified organic.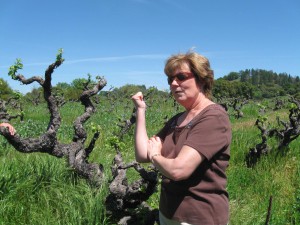 Jan is known as the "vine whisperer", because she goes out and talks to the vines to keep them thriving. They also play music for the vines.
"What kind of music do they like?" I asked Bruce.
"Classical, mostly."
"What about R&B?" Some of the younger vines might dig a little Lou Rawls, I figure. Or Barry White.
He just laughed, so I'm guessing I touched on a trade secret.
They make predominately Zinfandels, which always make me think fondly of meals with Aunt Gigi and Uncle Ned, as they are big fans of the Zin. At one Christmas dinner, a little tipsy on Zin, I staged an attack on the elaborate table display of porcelain Dickens-era holiday revelers using my box of animal crackers. The lion went in for the kill, then the rhinoceros  came out.
"He's going to attack!" said my cousin Sasha, sitting across the table from me.
"No, he's a peaceful rhino," I said, marching him through the village and over to the nativity scene by the sweet potatoes.
But I digress.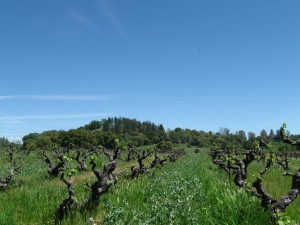 The Zins we tasted at Story Winery were all quite good, and I bought a bottle of their Miss Zin to share with Giles over a nice cut of beef. However, I think my favorite Zin was actually the barrel tasting of a 2011 Alitia Vineyard, right before Ms. Chick and I headed back to Sacramento. I feel a little weird using the phrase "mouth feel", but damn if that wine didn't make my mouth feel like I was eating Brie or some other really good, creamy cheese.
Which leads me to the two questions I still have about wine:
1. How is it that wines have aromas and/or taste of substances other than grapes? Brian said it's from the fruit used, but I still don't get it. How can one wine smell and taste a little like currants (or cassis, if you want to get all fancy like Ms. Chick) and another smell and taste like green pepper? Does it have to do with the soil? Pollination? More importantly, will trying to figure out the answer to this question keep me from drinking more wine? Doubtful.
2. Why does White Zinfandel have such a bad reputation? I asked this question out loud and it got so quiet, you'd have thought I'd said, "I am really disappointed that Rick Santorum has dropped out of the presidential race." Cinde said that there was a period of time when Zinfandel grapes were used only in blends, and that it wasn't until the 1970s that White Zinfandel became popular thanks to Sutter Home. But that still doesn't explain why there's little love for a wine that accounts for about 10% of the U.S. wine sales by volume. Yes, it's sweet, sometimes too much so. Yes, it's a gateway wine for many people, who (like me) go on to try other wines. But if that's the only wine you ever drink, does that make you wine-dumb? I say no. I am now very tempted to show up at parties with some Franzia White Zinfandel and see if I get thrown out.
All in all, it was a lovely afternoon with the folks at Story Winery and my fellow bloggers. They have a fantastic view of the Cosumnes River Valley from their picnic area.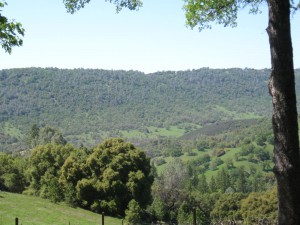 The staff at the winery are gracious and kind and [may] laugh at your jokes. If you're ever in the area, be sure to stop by Story Winery for a tasting.