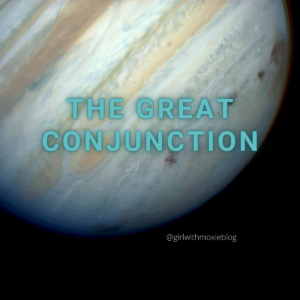 The last week has been a busy one, astrologically speaking. To recap:
December 15 – Venus enters Sagittarius
December 17 – Saturn enters Aquarius
December 19 – Jupiter enters Aquarius
December 20 – Mercury enters Capricorn
December 21 – the Sun enters Capricorn, marking the beginning of the Winter Solstice (Northern Hemisphere) and Jupiter is conjunct Saturn, aka the Great Conjunction
What does it all mean? To put it very simply, change is here – but it's going to take some time to roll out.

I know enough about astrology to know that I couldn't even begin to explain the significance of the Great Conjunction. With that in mind, I'm going to go with my strengths as a networker & gatherer of information and share links from several resources. These astrologers are extremely knowledgeable and can help you understand what's going on astrologically:
Stars on Fire podcast with Janelle Belgrave and Mecca Woods on the Great Conjunction and what it means (you can also find this episode on Podomatic, iTunes, Spreaker and others):
Maren Altman discusses the Great Conjunction
Rick Levine talks about the Great Conjunction
Chani Nicholas's horoscopes for the Winter Solstice & Great Conjunction
The Winter Solstice is a great day for setting intentions for what you want to manifest in the coming months. If you're new to intention setting, this article by Deepak Chopra is a great place to start with the process.
Be mindful that any changes you want to see, whether in yourself or in the world around you, will take time to manifest. Don't let that stop you from setting intentions, though. When I first started on my spiritual path, I got an annual reading from a psychic who would always tell me, "Ask the universe for what you want, then get out of the way! Go get the oil changed in your car, paint your nails, just do something else!" I'm sure you can find plenty to do that won't infringe upon the universe's work. Cleaning is always a good option. I'm slightly joking.
Have a wonderful Capricorn season, and may your winter be everything you want and need!