How's everyone doing? Did you lose your mind after the first 30 days of stay-at-home orders or are you holding on to those last few brain cells? I have my good days and not-so-good days. This week has been really weird, with energy spikes and then 24-hour cycles of I-don't-give-a-f**k.
But I have one thing I've been looking forward to every week since May 13: Venus Retrograde Fridays. I was inspired by Chani Nicholas's workshops with a special section on Venus retrograde. Chani is a freakin' brilliant astrologer who explains everything so clearly and with a focus on personal growth. If you're not following her on social media, and you have even a passing interest in astrology, go follow her now and sign up for her mailing list. I'll wait.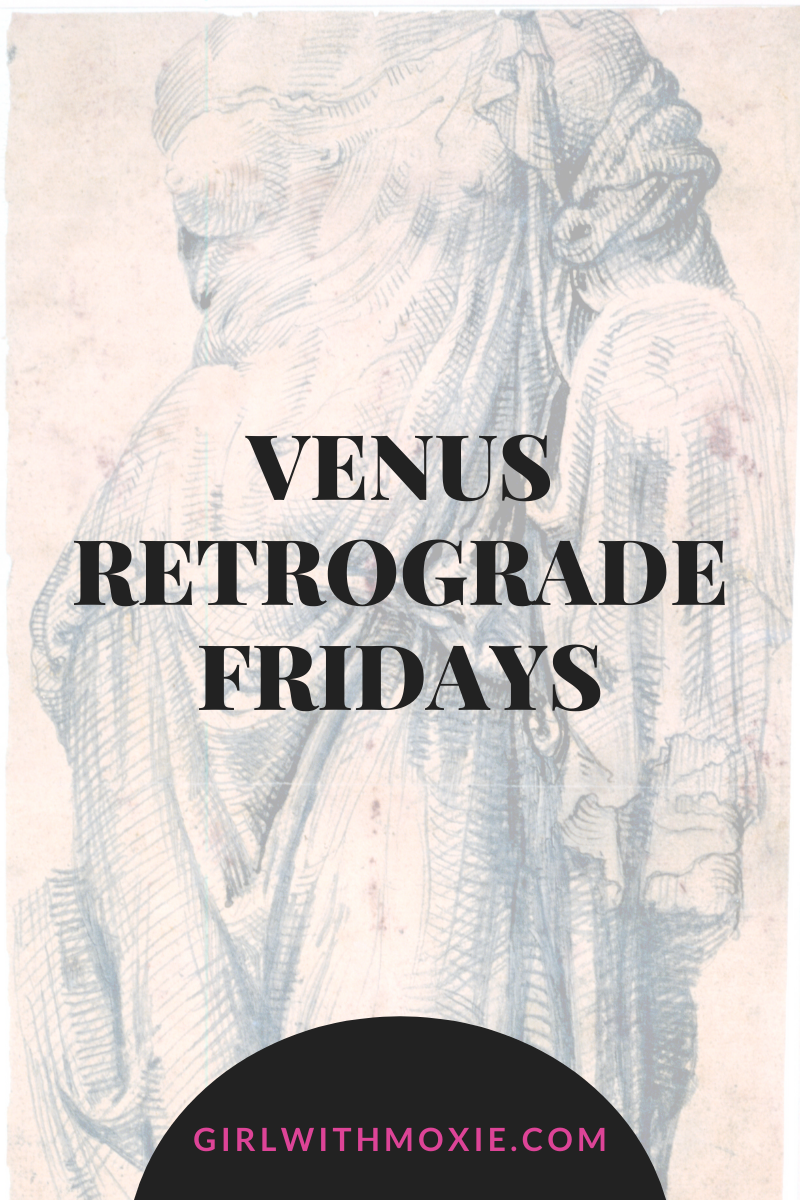 A brief primer on Venus retrograde, taken from Café Astrology:
Occasionally, Venus appears to be moving backward in the sky. "Appears" is the key word here, because, technically speaking, no planet actually moves backward in their orbits around the Sun. In fact, they don't even slow down. Retrograde-station-direct cycles are essentially illusions that result from our point of view from Earth, simply because the Earth is also orbiting the Sun at a different speed than the other planets. Venus is Retrograde approximately 40-43 days every 18 months.
Venus went retrograde in the sign of Gemini on May 13 and will station direct on June 25.
Why should you care? Well, Venus is the planet of beauty and aesthetics. She rules what we value, what makes us happy, and what creative pursuits we enjoy. She is all about sensory experiences: delicious food and drink, leisurely activities, delightful scents and sights. She also rules relationships – surprise, surprise.
So what happens when Venus is retrograde? Retrograde periods of any planet in astrology are a time when the areas ruled by that planet seem to go backwards or sideways. We have to reassess, reflect, re-do, rewrite, rethink; things might not move forward as fast or as easily as we'd like. Since Venus rules love, affection, beauty, values, aesthetics and relationships, that means these are the areas where we need to reconsider what we're doing and where we want to be during a Venus retrograde cycle. You may start considering a new hairstyle or makeup palette. You might want to clean out your closet and reinvent your look. A romance that was already on shaky ground may end, or past loves may pop up and get you thinking about how that relationship helped or hindered your growth.
Most astrologers will advise you not to make any major changes during a retrograde period. During Venus retrograde, you shouldn't cut your own hair or sell off your investment portfolio. I tend to agree with that, but I would also add: if you're able to test out a change in a way that you can reverse it with minimal consequences, it might be worth trying.
Now that we have that out of the way, let's talk about Venus Retrograde Fridays. Venus rules Friday, so Chani Nicholas recommends using this day to focus on Venusian activities. After nearly 8 months of intense client work and dealing with personal issues, I am all about taking better care of me while work is not as crazy busy. I've now had two Venus Retrograde Fridays and really enjoyed them, and figured I owed it to the last few regular readers of my blog to share how this works and ways you can honor Venus during this retrograde period.
Here's a list of possible activities for Venus Retrograde Friday.
Lounge in bed for as long as you want.
Wear comfy clothes.
Play "closet" where you go through your clothes and try out new looks.
Reorganize your closet or dresser: by color, by type, by season, by outfit, by whatever.
Play "jewelry box" where you go through your baubles (as my fabulously fashionable friend Beth calls them) and put on all of them or try new combinations.
Put clean sheets on the bed and fresh linens in the bathroom.
Take a long soak in the tub with your favorite scents – bubbles, bath bomb or salts optional (bonus points if you have a glass of your favorite beverage nearby, or you eat a cupcake while in the tub).
Deep condition your hair.
Put on your favorite perfume or scented lotion.
Give yourself a mani/pedi or a facial (YouTube has tons of great tutorials).
Teach yourself a new updo for your hair (again, YouTube tutorials are the way to go).
Take a nap.
Bake your favorite treats and eat them slowly so you can enjoy every bite.
Make yourself a fabulous dinner and pair it with your favorite beverage – or order that meal for pickup/delivery.
Write a love letter to yourself to open after July 29 (when Venus ends its shadow period).
Write out affirmations focusing on loving yourself more, then read them aloud. Some good ones:

I am perfectly content to be me.
I am good enough just as I am.
I love and approve of myself.
I choose to love myself unconditionally.

Read love poems, a romance novel, chick lit, or erotica.
Watch a favorite rom-com.
Take a virtual tour of an art museum or historic residence/palace (my personal favorite is Versailles).
Write letters and cards to people you care about – or send happy mail to people who need encouragement and/or support. (Here's a great site to start with if you'd like to write something semi-anonymous to someone in need. Here's another one.)
While you don't have to do this on Fridays, it will certainly kick off the weekend on a positive note. And if you can only do one thing you really love on Friday, that's still good. Venus Retrograde Fridays are all about loving on yourself the best way possible. Enjoy!