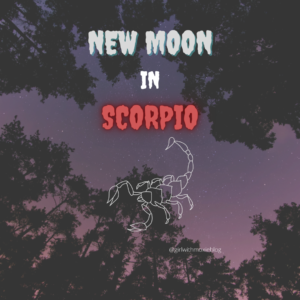 I'm writing this late on Sunday evening, and while I debated over whether or not to post anything for the New Moon in Scorpio, my weekend was so emotionally rich I knew it was important to write about this cosmic energy and its impact on all of us.
Moon in Scorpio
At the end of October, I wrote about Moon placements and the positions of dignity, detriment, exaltation and fall. When the Moon is in Scorpio, it's considered to be in its fall, meaning that the Moon is challenged in the sign. Rather than wearing the silvery, flowing, soft clothes of Cancer, the Moon dresses in black trenchcoats and fedoras in Scorpio. Its job is to find all the clues that will solve the mysteries of the soul.
Sound intense? It definitely can be. My weekend was punctuated by personal breakthroughs and discoveries that had me sobbing on Saturday morning and shedding tears of joy by Saturday night. Over the course of 48+ hours, I had several experiences & conversations that provided me with profound clarity on what I needed to transform in my work life – and all because of the New Moon in Scorpio falling in my natal 6th house of service and work. New Moons are a time when we're emotionally primed to do some deep cleaning on a cellular level: the universe doles out the lesson plans on where we need to let go of all the old thought patterns and resulting behaviors and asks us to consider what we'd really like to do next.
But where does this happen, exactly? If you know your rising sign, here's a rundown of what aspects of life the New Moon in Scorpio would have been transforming:
Aries Rising – regeneration, transformation, death
Taurus Rising – relationships and partnerships
Gemini Rising – work and work environment, service, health
Cancer Rising – creativity & creative pursuits, children, where you find & seek pleasure
Leo Rising – home, family life, your past, ancestors
Virgo Rising – communication skills & tools for communicating with others, sibling relationships, short trips
Libra Rising – finances, material possessions, self-esteem
Scorpio Rising – physical appearance, self-awareness
Sagittarius Rising – subconscious thoughts & feelings, karmic debts
Capricorn Rising – friends and social groups, hopes, goals
Aquarius Rising – career, fame, reputation
Pisces Rising – personal philosophy, spirituality and beliefs; higher education
You can also read that list for your Sun sign, which would also be impacted, though maybe not as strongly. (Not sure about your rising sign? Visit Chani Nicholas's website to generate your natal chart for free.)
Some questions to consider over the next couple of days:
Where are you in need of transformation?
Did anything happen in your life between November 13-15, 2020 that brought about a personal revelation or breakthrough? How did those events make you feel?
Did you witness the end to a cycle or pattern in your life? Was that experience positive or negative, or perhaps both?
What do you plan on doing to further the transformative process?
You may find it helpful to journal about these questions, or perhaps use them as a starting point for a Tarot or oracle card reading. Whatever you decide to do next, I wish you much success on your transformational journey!
If you enjoyed this post, please consider making a donation.