We've all been there: you're at the office, out with friends, shopping, eating, whatever. You spill a little marinara sauce on your shirt, get a paper cut, discover your period has started early, feel the early pangs of heartburn. But you're nowhere near a store to get what you need to feel a bit more put together, or it's inconvenient to find one. What do you do?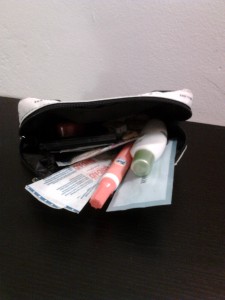 Enter the Moxie's Mini Drugstore Kit. (I just made that name up. Catchy, eh?) It's a little pouch containing various and sundry items you may need in the event of a not-dire-but-mildly-upsetting emergency. I've made a few kits for myself and recently I realized, hey, other folks might dig this, and it's a great holiday gift, too.
What you need:
Small bag or pouch. You can repurpose a cosmetic bag, as I did with one I got from Jo Malone (shown above), or you can buy an inexpensive pouch or bag at a drugstore, dollar store or office supply store. If the kit is going to get banged around a lot in a backpack or totebag, then you may want to use a hard acrylic box or tear-resistant fabric instead of plastic.
1-2 pill boxes or containers – these Nalgene vials, hinged boxes, or hinged lid jars are good. You can also repurpose a small candy or mint tin; just wash and dry thoroughly before you use it.
Drugstore stuff – This is where practicality and ingenuity meet. You'll want the basic first aid stuff: adhesive bandages, alcohol swabs, aspirin, antacid pills, individually wrapped throat lozenges. Beyond that, you can add items such as:

stain remover pen – Tide To Go pens are my preference
bobby pins
safety pins
dental floss
mini toothbrush – Wisp by Colgate are perfect for this
feminine hygiene products – tampons, pantiliners, pads, Instead SoftCup
lip balm
hand wipes – individually wrapped wipes are the most compact
sewing kit
pocket pack of tissues
eye drops
hand lotion – travel size
sunblock – travel size
antibacterial gel
nail file and/or nail clippers
breath mints, strips or spray
Once you have everything, it's time to start putting together your kits. Fill the pill boxes with a selection of pills, separating them as needed and labeling the boxes. (If you're doing this for someone else, you may want to leave the pill boxes empty so they can fill them with their preferred over-the-counter medicines.) With the single-use items, such as the bandages and handwipes, insert at least 3 of each – these items should be flat & compact enough that they won't take up much room in the bag.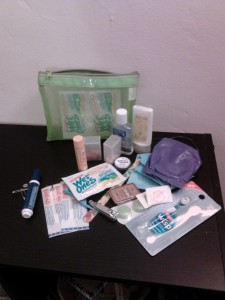 Pro Tips:
If you're putting together more than one kit, then you may want to look for items at the dollar store.
If you tend to grab hotel freebies such as lotion, mouthwash or sewing kits, these are the perfect size to include.
Making kits for yourself? Be sure to do a kit inventory every 3-6 months to refresh your supplies, check expiration dates, etc.
These kits in a larger size are also great for bridal parties (crazy things are known to happen in the hours before a wedding), new moms (add baby wipes, a pacifier, and other baby supplies), college grads off to their first job (perfect to tuck in their desk at work).