For the last 2 years I've taken part in LetterMo, which is short for Month of Letters. Conceived by writer Mary Robinette Kowal, LetterMo is pretty straightforward: every day that the postal service in your country of residence is operating, you are supposed to mail an item. It could be a postcard, an article from a magazine, a cool photo, a letter, a Post-it note…doesn't really matter. The second part is that for every letter/note you receive, you respond. Kowal is one savvy lady, so she chose February for LetterMo because it's a short month AND her birthday is in February. (We share a birthday, actually. *fistbump*)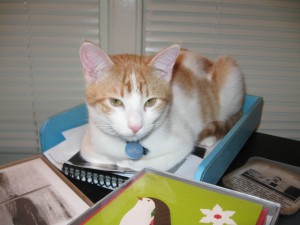 As I've said on the blog before, I love mail. Postcards, long-winded letters, typewritten Christmas letters – I love 'em all. Momcat taught me that sending mail often guarantees you'll get a response, so hardly a week goes by that I'm not mailing off a note or postcard to a friend or family member. Sadly, very few folks write me back on a regular basis. It's probably because of that newfangled BookFace thing, where you can click a button and tell someone you like their photo of the cream of broccoli soup they had for dinner, or click something else and you've shared that photo with all the people inside that whatsit whosit thing. It's witchcraft, I tell you. WITCHCRAFT.
But seriously. Check out the LetterMo website and sign up. It's the most fun you'll have for less than 50 cents a day.