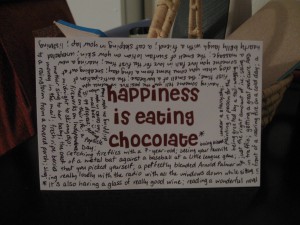 A few weeks ago, I sent this postcard to a dear friend of mine who I knew would appreciate the sentiment stated on the card. Then I considered how happiness is so many, many things, and not just consuming chocolate. So I whipped out my extra-fine-point Sharpie and got to work adding more to the card. Below you'll find my extended definition of happiness.
having a glass of really good wine
reading a wonderful novel in front of a roaring fire on a cold day
a hearty belly laugh with a friend
a cat sleeping in your lap
listening to a rainstorm from a covered porch
singing really loudly with the car radio with all the windows down while sitting in traffic
getting a great pedicure and a massage
the smell of suntan lotion on your skin
unexpected money in the mail
fresh ripe berries that you picked yourself
a perfectly blended Arnold Palmer with just the right amount of ice
seeing someone you love fall in love for the first time
hearing a new mother sing to her baby
the crack of a metal bat against a baseball at a Little League game
being greeted by a tail-wagging dog when you come home from a long day
sneaking out at midnight to skinny dip
catching fireflies with a 7-year-old
seeing your favorite painting in person for the first time
the smell of a barbecue
the anticipation of fireworks on Independence Day
being kissed under a starry sky
having someone tell you the positive influence you had on their life
a Popsicle dripping on your hand when it's 99 degrees
getting fun cards in your mailbox
What makes you happy?