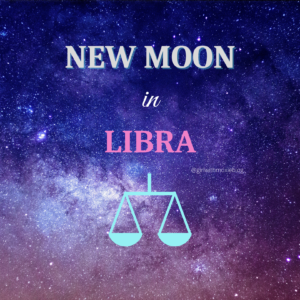 The New Moon in Libra is happening today, and it's opposing Mars retrograde in Aries and squaring Saturn and Pluto in Capricorn. There's a whole lotta drama going on and it requires us to find balance (Libra) amidst all the conflicting energy in the skies.
Yeah.
All this heavy planetary action, plus some personal and professional issues, has me tired and preoccupied. That means I'm going to shift focus with this month's New Moon post. Rather than write at length about the New Moon in Libra, I'm sharing links to astrology content I find to be insightful, and often revelatory.
Chani Nicholas's horoscopes for the New Moon are an excellent read every month, as are all of her horoscopes. I highly recommend her book, You Were Born for This. Order a copy through your favorite indie bookseller.
Rob Brezsny's Free Will Astrology offers a different take than what you'll find in standard horoscopes. He offers weekly guidance for each sign through examples and analogies taken from all sorts of resources. Other content on his site and in his free weekly newsletter is guaranteed to make you say "wow."
Rick Levine explains planetary aspects and transits in a way that's accessible without being condescending. His YouTube channel is a fantastic resource for astrology students of all levels; you can find him on Twitter and Instagram, too.
Debra Silverman is a recent discovery for me and I love how she talks about aspects and transits. She does short videos based on the moon cycles; you can find them on Astrology Answers and on her Instagram feed.
Heidi Rose Robbins's daily moon posts on Instagram are one of the first things I read every day. She handwrites each post and takes a photo of it for her post – and they are always infused with love, compassion and tender honesty.
I hope this list of my favorite astrologers leads you to find content that enlightens and enriches you, and helps you along your spiritual path. I'll share more of my favorite astrology resources in a future post.