Connection speeds got you down?
Your bus or train running behind schedule?
Mobile phone, laptop, or other electronic device not working right?
Welcome to Mercury retrograde, my friends.
Long time readers of GWM have likely read previous posts I've written about Mercury retrograde, an astrological phenomenon that happens about 3 times a year. To understand this occurrence, and why some folks get so frustrated when Mercury is retrograde, I'll provide some background.
Mercury (also known as Hermes) was the messenger of the gods in Greek & Roman mythology. He had a wicked sense of humor and loved to play tricks. In astrology, the planet Mercury rules all forms of communication. This includes e-mail, faxes, Internet, phones, text messages and snail mail. Mercury also rules transportation: planes, trains, automobiles, even bicycles and scooters. On a more abstract level, Mercury rules thoughts, concepts and ideas.
In astrology, the term retrograde means that a planet appears to be moving backwards through the signs of the zodiac. All planets except the Sun and Moon have retrograde cycles, and these retrograde cycles tend to trigger areas that need special attention. I found this explanation from Dwight Ennis to be particularly helpful:
Astrologically, a retrograde planet is symbolically retracing ground that has already been covered. Wherever one finds a retrograde planet, it seems to indicate a need to internalize that planet's energies, come to terms with them, and "own" them.
When Mercury is retrograde, communication can get all screwed up. Websites go down for no apparent reason. Social media becomes unpredictable, with real-time updates & feeds not working the way they should. Electronic devices lose power or break down completely. Travel can be wonky as well: traffic might be much worse on the freeway, flights are delayed or cancelled, and you might have car problems.
The unpredictability of Mercury retrograde can manifest in other surprising ways. Whenever a major awards ceremony takes place during Mercury retrograde, such as this year's Academy Awards, I'm always interested to see what happens, because the favorite in any category can end up not winning. This year's results didn't disappoint in that regard, with Argo taking Best Picture, Ang Lee winning Best Director for Life of Pi, and Christoph Waltz getting the Best Supporting Actor award for his work in Django Unchained – when none of them were seen as the favorites by many pundits.
On February 23, Mercury went retrograde in the sign of Pisces, which rules intuition, imagination, compassion, and understanding. Pisces also rules large bodies of water and water pipes. During the Oscars, I found this tweet which perfectly describes the wackiness of Mercury retrograde in Pisces.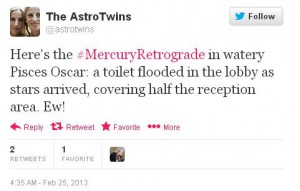 I like to think that Mercury finds all of the delays and communication breakdowns and surprises amusing. He's a trickster, after all. But that doesn't help when you're waiting on a call about a job or your car won't start. The good part is that Mercury retrograde cycles don't last very long; the most intense portion of the cycle goes on for 20-24 days. It's enough time to make you loopy, but not so long that you lose all hope of ever having a working Internet connection again.
It may help to think of Mercury retrograde cycles as a time to re-engage with areas of your life that have been neglected. Our world spins so fast these days (figuratively speaking) that it can be difficult to find the time to take on those tasks we've been putting off for a while. Personally, I've been using this Mercury retrograde period to take a look at old projects and determine if I am interested enough to revive them, and I'm re-organizing my stuff and weeding out items I no longer need. Notice all the "re" words? That's because retrograde cycles are good for "re" activities: revise, reassess, review…you get the idea.
While searching online for current pieces on Mercury retrograde, I came across this piece from 2010 that resonated with me. As someone whose ruling planet is Mercury (I'm a Gemini rising), I often struggle to find the good during Mercury's retrograde periods. The excerpt below gave me some food for thought:
Mercury Retrograde is a time to lay off the caffeine-powered Mercury engines of our lives and find something else–stillness, Athena, Jupiter, anybody but Hermes/Mercury. And this is what could be filling us with dread as we think of Mercury receding away from us. We've come to depend so much on him that we can't picture him moving away from us…We don't use it as a time to reflect on our attachment to our computers, our phones, our social networking accounts, our blogs, or even ways of communicating, whether electronically or not. It doesn't mean that we have to cut off Mercury or Mercury related concerns entirely, even if that were possible.

It means that we can give space to other dimensions of Mercury through other "gods" or principles, like looking at the beauty of our handwriting, which is more of a Venus/Jupiter concern. (Yes, when was the last time you looked at your writing script? Have you ever pushed to develop or improve it, especially since writing in script is becoming a dying art?) Or does a recent argument with a friend highlight how you might not listen as well as you think you do? Or do you speak more forcefully, with too much Mars, than you might think or would like? Similarly, are you being as serious about your communication or your spoken commitments as you could, which is to evoke more Saturn? Or how are you evoking Athena (strategy) and wisdom on your job?
So while I referred to Mercury retrograde as being the most frustrating time of the year in the post title, it really doesn't have to be. And if I keep telling myself this, eventually I will believe it. In the meantime, I'm counting down the days until March 17, when Mercury goes direct. Only 13 more to go…