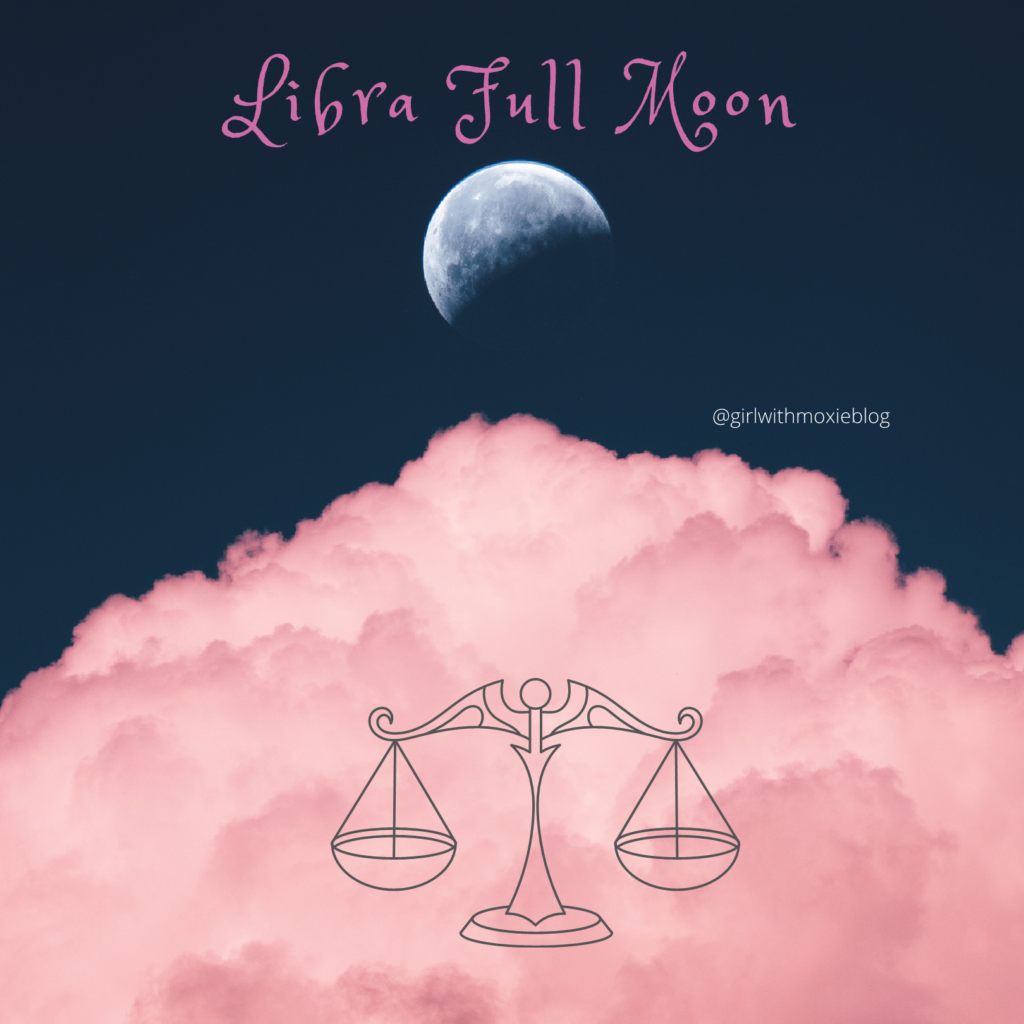 The last weekend of March features a Full Moon in Libra and calls to mind what began nearly six months ago, when the Moon was New in Libra. During Aries season, a time when the focus is on asserting our individuality and driving forward, the Libra Full Moon is a commercial break about relationships. It reminds us that how we relate to others is a reflection of the relationship we have with ourself.
Cardinal Signs: Let's Get It Started
I've previously written about fixed signs and mutable signs, and the qualities they share. Now's a perfect time to discuss the cardinal signs of the zodiac: Aries, Cancer, Libra, Capricorn. These signs mark the start of a new season and set the stage for the next cycle. It makes sense, then, that cardinal signs are known for initiative and drive. With Aries marking the beginning of the astrological new year and spring in the Northern Hemisphere, its opposing sign Libra heralds the start of autumn. Cancer and Capricorn kick off summer and winter, respectively, in the Northern Hemisphere.
I've also written about oppositions and how opposing signs want the same thing, but go about it differently. As a cardinal fire sign, Aries is all about movement: its high energy can be impulsive and brash, ready to take on physical challenges. The sign of the ram burns hot and fast. Libra seeks harmony and moderation, wanting to consider all the options before making a decision. Its cardinal air nature works toward diplomatic solutions and prides itself on its ability to cooperate with others. Their shared goal is staying active: for Aries, it's physical, self-driven activity; for Libra, it's mental, other-driven activity.
When the luminaries of the Sun and Moon are in these activity-centered signs, it can make for intense revelations about one's inner nature, capabilities and shortcomings. Are we too self-centered? Are we thinking about others' feelings too much or not enough? Answering those questions is the focus of this Full Moon in Libra.
Moon in Libra
Libra is the sign of justice, fairness and balance. Ruled by Venus, Libra seeks to connect with others and finds great joy in relationship and partnership. While many folks may focus solely on the romantic relationships component (easy to do when Venus is involved), Libra is interested in all relationships: business, familial, platonic, amorous. It's happiest when relating to others.
Libra also feels very strongly about the scales being balanced. It's said that Libra is interested in "peace at any price" and that can prove to be an issue. Libra does not like confrontation or fuss when it comes to relationships and may overlook major red flags or flaws. All in the name of love, right?
When the Moon is in Libra, relationships come to the forefront. The drive to partner up is strong, but so is connecting with friends and family. A Full Moon in Libra says it's time to scrutinize our relationships and determine whether or not they are leaving us feeling connected and balanced, or alone and confused.
Flashback to October 2020
Take your mind back to October 16, 2020, during the Libra New Moon. Let's think of that New Moon as the start of cuffing season, the period of time when singles are looking to find someone to partner with. But let's expand this concept of cuffing season to include the innate drive to connect more closely with those around us, which often happens as the winter holidays approach and the weather shifts. Perhaps we're reaching out to friends via text or DMs, calling older family members to talk and share updates, or corresponding with others by mail.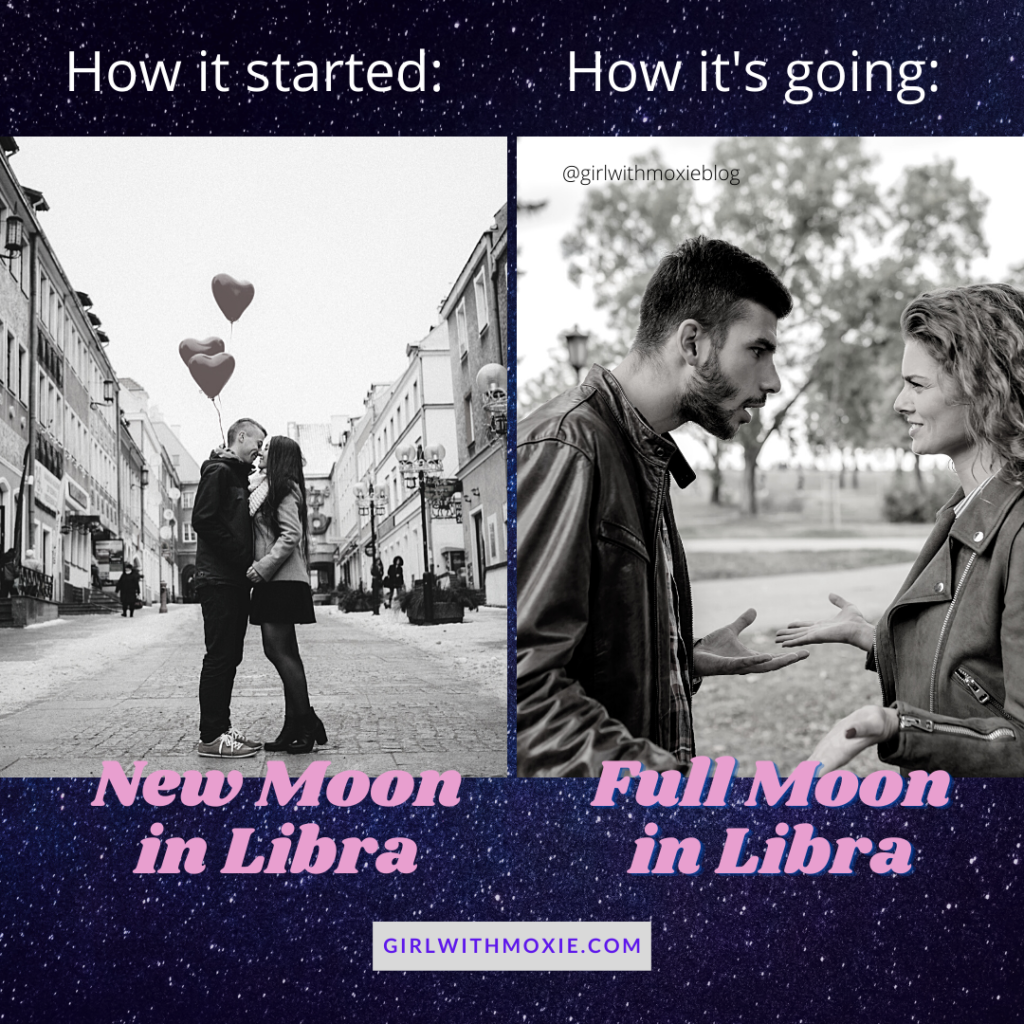 Now consider this: we're at the beginning of spring in the Northern Hemisphere, a time when the weather fluctuates between cold nights and warm sunny days. We may get a spring itch to change things up in our lives – and since the Sun is in Aries, it's highly likely that those changes will be more self-focused than other-focused. Is it possible, though, to advocate for ourselves without sacrificing the connections we value? This is the question the Libra Full Moon wants us to ask.
Some questions to consider during your Full Moon rituals and reflections:
Did you begin a new relationship or partnership in mid-October 2020? Or did you forge a new connection with a friend or family member?
What's the current status of the new relationships/connections that began nearly 6 months ago?
Do you feel emotionally met in your current connections? Why or why not?
What would it take for you to feel balanced in your current relationships and connections?
Is there an underlying belief about relationships and partnerships that you need to release?
I hope today's Libra Full Moon brings you clarity and insight into your relationship with your self and with others, and offers you opportunities to move forward in healthy, loving ways.