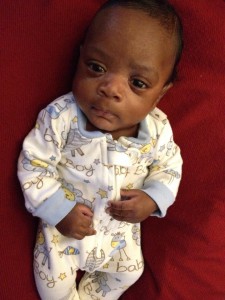 This is Junior. He was born in late May 2014, three months before he was actually due. He is T-Wizzle's son. I call him my nephew, because his momma has been my sister from another mister for more than 13 years.
I spoke to T-Wizzle the day her water broke. We IM'ed back and forth while she lay in a hospital bed, freaking out. There was a very strong possibility she would lose the baby she had wanted for many years. We prayed together and focused on sending healing energy to her unborn child.
After Junior was delivered via C-section, T-Wizzle's health deteriorated. She contracted pneumonia and an E coli infection. Her heart was enlarged.
She nearly died giving her son life.
Throughout the month of May I waited for updates on his progress, on T-Wizzle's healing, on everything. I prayed, I asked friends and family to pray for him and for my sister from another mister. I don't remember much else that happened in May, to be honest. All I could think about was my best friend, her son, and her husband Buster, and how much I wanted them to be together as a family, happy, healthy, thriving.
T-Wizzle got better and was released from the hospital, but Junior had to stay behind. The first few months of Junior's life were spent hooked up to machines. Machines that fed him, monitored his heart rate and other bodily functions. T-Wizzle and Buster visited him daily in NICU and posted updates on Facebook.
All summer long, whenever I saw little African-American boys, I thought of Junior and smiled. I imagined a day when he would be toddling around on unsteady feet, grinning at people, clutching a toy car in one hand. I imagined teaching him songs and reading to him about hungry caterpillars and purple crayons. I imagined dancing with Junior to "Sir Duke", because he loved the Stevie Wonder songs T-Wizzle would sing to him while he was in NICU. Thank you for watching over Junior and getting him healthy enough to go home, I would pray.
When Michael Brown was killed in Ferguson, Missouri on August 9, the stories coming out of Ferguson and other communities about violence against young black men made my heart hurt. Because all I could think about was that sweet little boy in an incubator, learning how to breathe on his own, learning how to eat from a bottle, and how his life would change in so many ways once he left the hospital. There, he was safe. All he had to do was gain weight and work on his suck-swallow skills. Out here, the challenges would be much greater, especially over time.
Now that Junior is home and growing stronger and smarter every day, I am afraid for him. I am afraid that as he grows out of onesies and into big boy pants, people will perceive him differently. That as his voice deepens and facial hair sprouts on his upper lip and chin, people will look at him with suspicion. That as he graduates high school and goes on to college, people will make his achievements and innate talent less important than his skin color. Because, as T-Wizzle said to me today, "his skin will be enough [for him] to be treated like a threat."
In another hour or less, the world will know the decision of the Ferguson grand jury regarding whether the officer who shot Michael Brown should stand trial. I fear the worst, because history has proven that the worst often happens when justice meets racial prejudice. I fear for other young black men in Ferguson and beyond, and their mothers who love them, and I wish there was a way for them all to be kept safe from harm, the same way Junior was for those first three months of his life.
But most of all, I want to go see my nephew and hold him close. I want to kiss his sweet little face and tell him that his worth and value is immeasurable to me. I want to whisper in his ear that I will always try to help him find a place in the world where he can grow up into a courageous, generous, loving young man, inoculated and incubated from harm.