We are 5 days into the first Mercury retrograde for 2021 and it's taken me this long to finally get this post completed. That's my life as an Aquarius Sun/Mercury, with Gemini rising, when Mercury goes retrograde: plans go sideways, surprises pop up, technology can get wonky. How about you? How have you been forced to pivot lately?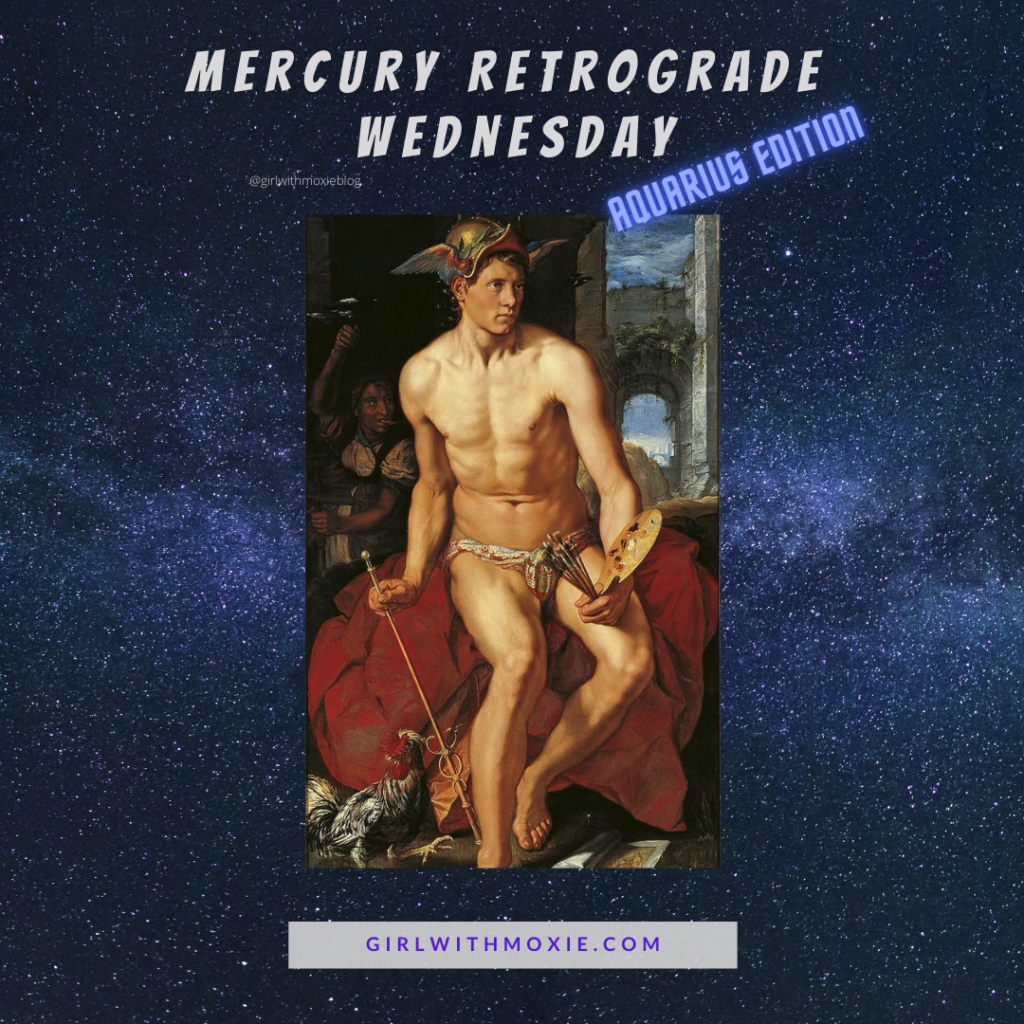 While Mercury retrograde can be very challenging, it's also our opportunity to slow things down and be open to changes. With Mercury retrograde in Aquarius, the sign of innovation and revolution, it might be more dramatic than usual. But we can channel this energy and make it work for us, not against us.
Mercury: The Basics
Because retrograde cycles ask us to review content, let's review what we know about Mercury from mythology. Mercury (Hermes) is the messenger of the gods in Greek and Roman mythology. Zeus had a lot of affection for Mercury's cleverness and entrusted him with several tasks. Mercury was the only god who could freely move into the underworld and was a psychopomp, guiding souls to the underworld. (To learn more about Mercury/Hermes, I highly recommend watching this episode of "Great Greek Myths.")
Mercury is a trickster and shapeshifter. He loves a good joke or prank. While I've listed some of the things Mercury rules in a previous post, Mercury also rules:
Artisans & craftspeople
Bicycling
Butterflies
Carrots and celery
Clothing
Conversation
Dictionaries and encyclopedias
Dogs
Fingers, fingernails, hands and arms
Handwriting
Hygiene – personal and public
Imagination
Memory
Roller skates
Stories & storytelling
In astrology, the term retrograde refers to when a planet appears to move backward through the signs. Retrograde cycles for the planets vary – and Mercury's retrograde cycles are among the shortest, logging in at approximately three weeks. If it feels longer, that's due to the shadow period, an approximately two-week period when Mercury is moving along a path that it will revisit later. There's a pre- and post-retrograde shadow period: typically the post-retrograde shadow is not as intense as the pre-retrograde shadow and is more of a final review of everything that occurred during Mercury retrograde.
The dates for Mercury retrograde in Aquarius are:
January 15, 2021 – Mercury enters shadow period
January 30, 2021 – Mercury stations retrograde at 26 degrees Aquarius
February 20, 2021 – Mercury stations direct at 11 degrees Aquarius
March 13, 2021 – Mercury leaves shadow period
As I've said before, Mercury has an excellent marketing/PR team because so many people are aware of Mercury retrograde cycles and how it affects travel, electronic devices, and communication. Those of us with Mercury predominant in our charts (Gemini and Virgo Sun/Rising, in particular) may struggle the most when Mercury is retrograde. The beauty of studying astrology, though, is learning how how planetary transits and retrograde cycles may affect our lives, and finding ways to work with those energies. Being aware of upcoming Mercury retrograde cycles can help you prepare for them. When Mercury is retrograde or about to go retrograde, regardless of your personal placements, it can help to:
Create contingency plans for events that will take place during Mercury retrograde
Work on communicating clearly with colleagues, clients, customers about projects and tasks
Focus on listening deeply to others
Accept that plans may go sideways and you will have to be flexible in your response
As you've read in my previous posts about Mercury retrograde, Venus retrograde, and Mars retrograde, you know that retrograde periods are a time to move inward. It's an opportunity to slow down and be reflective on what that sign rules. And since Mercury rules Wednesday, I encourage you to celebrate Mercury Retrograde Wednesdays for the remainder of this current cycle – and perhaps during the shadow period as well. From now through February 17 (and, if you're so inclined, through March 11) spend the next couple Wednesdays honoring this versatile, multitalented planet with some very mercurial activities.

Activities for Mercury Retrograde Wednesdays: Aquarius Edition
Break your own rules. Aquarius loves a good dose of shock and awe, and with Mercury in retrograde in this sign now's the time to look at the rules you live by and see if it's time to break them – especially if those rules are keeping you stuck in unhealthy habits, beliefs or mindsets. I am NOT encouraging you to be unsafe or break the law! To borrow a phrase from reformer & activist John Lewis, consider where you can make good trouble in your own life.
Read about activists, revolutionaries, reformers, and innovators. Aquarius is the sign of revolution, reformation and innovation, and Mercury rules reading, so read books and essays written by or about folks such as Martin Luther King Jr., Malala Yousafzai, Mahatma Gandhi, Gloria Steinem, Harvey Milk, Marsha P. Johnson, Sylvia Rivera, Emma Tenayuca, Cesar Chavez, and Luisa Moreno. Online searches on activists will pull up even more names, so have fun with it!
Contact your local leaders. Advocate for your community by sending an email or postcard to your local, regional or national leaders about issues that matter to you.
Get outside. If it's safe enough for you to do so, go for a bike ride or strap on some roller skates. Take a short trip by car to a place you've never been before. No matter your mode of transportation, make sure everything's in good shape before you start: check tires & wheels, fill up the gas tank, have a paper map handy, bring a phone charger. And don't forget your keys!
Write often, especially by hand. Get some paper and pen/pencil and write down what's on your mind. Give it all to the page – it can handle what you have to rant or rave about. Read my post about daily writing rituals if you need some suggestions on how to start.
May this Mercury retrograde period bring you fresh insights into what is in need of change and upheaval in your life, and what changes you wish to bring about, whether it's personally, professionally, regionally or globally.
If you found this post helpful, please support the work with a donation.